Love Real Food Better Broccoli Casserole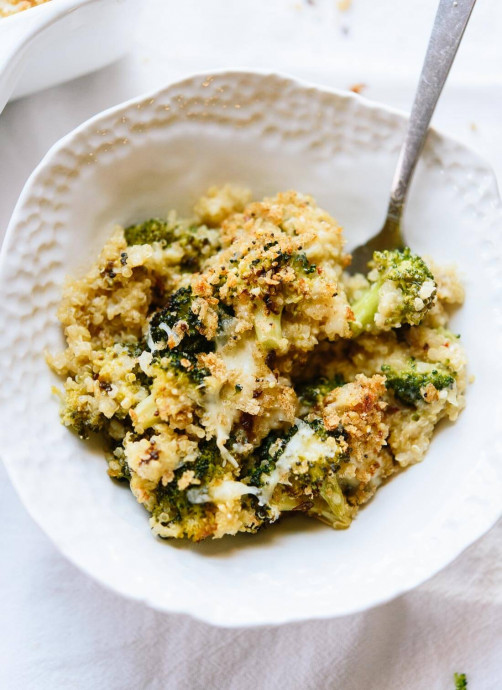 Did you know that cheddar cheese isn't actually orange? It's really white, and they add orange coloring to make it orange. We've been duped all along. I know.
I opted for cheddar without coloring, so this broccoli cheddar casserole may not look like the kind you grew up eating. It's also more redeeming than typical Midwestern broccoli cheddar casseroles, while still being gloriously cheesy and creamy.
You won't find mayonnaise, cream of mushroom soup, or annoying Béchamel sauce to make in this healthy broccoli casserole recipe. You don't need it!
Casseroles aren't my typical fare, but they do hit the spot on cold, gray winter days. Plus, they make for great leftovers. Hooray for meals that keep on giving!
My broccoli cheddar version here features tons of caramelized roasted broccoli for extra flavor, plus some milk and sharp cheddar cheese.
Nutritious quinoa magically blends into creamy oblivion while it's in the oven.
Top all of that with some garlicky breadcrumbs and you have one amazing dish that makes for great leftovers.
You can be fancy and call it a "grah-tahnnnn" in your best French accent, or announce it as a "hot dish" in your finest Minnesotan. Either way, it's a stellar broccoli casserole.
Ingredients:
2 cups vegetable broth or water
1 cup quinoa (any color), rinsed under running water in a mesh sieve for a minute and drained
16 ounces broccoli florets, either pre-packaged or sliced from 2 large bunches of broccoli
2 tablespoons olive oil
¾ teaspoon salt
10 twists of freshly ground black pepper
¼ teaspoon red pepper flakes, omit if sensitive to spice
8 ounces (about 2 ½ cups) freshly grated cheddar cheese, divided
1 cup low-fat milk (cow's milk tastes best but unsweetened plain almond milk works, too)
½ tablespoon butter or 1 ½ teaspoons olive oil
1 clove garlic, pressed or minced
1 slice whole wheat bread (substitute gluten-free bread for a gluten-free casserole)