Figs And Seared Duck Breasts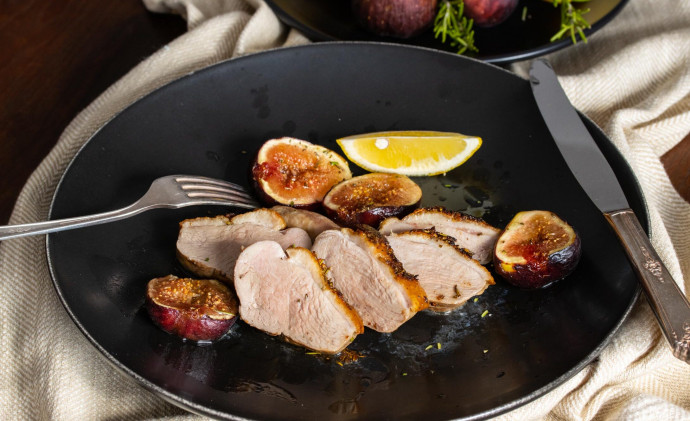 Very easy to prepare. It just requires a couple more steps and a little more attention. And when I say attention is nothing more than using a sharp knife, scoring the skin with shallow slits in a crisis cross pattern into the duck breast skin and fat, ensuring not to pierce the beautiful meaty flesh underneath it. That is all the difficulty that is required for any duck recipe. The best part is cooking it all in one skillet.
Therefore, quick and easy to make, it only takes 30 minutes. Simple, delicious, and absolutely delicious. The duck has one very meaty side and one side rich in fat. The duck fat is actually recommended that you save once you extract it from searing it. You can use it for a later time for French fries, or to add extra flavor to any meats or vegetables. Stores well in the refrigerator.
The figs make a perfect complement to this dish and this is a wonderful dinner party recipe. I sprinkled some of the cooking fat over the figs. The combination of the two is out of this world.
The final lemon squeeze and olive oil bring the whole dish together with a perfect balance.
Ingredients:
Finely grated zest of 1 lemon
1 large garlic clove, finely grated
1 tablespoon rosemary leaves finely chopped
1 teaspoon rosemary leaves finely chopped
¾ teaspoon sea salt
¼ teaspoon black ground pepper
2 12-ounces each duck breasts, patted dry and scored crosshatch pattern into the skin, do not pierce the flesh underneath.
6 fresh figs, halved
Juice of ½ lemon and lemon wedges for serving
olive oil to drizzle over it