Simple Baked Cheesy Italian Chicken Meatballs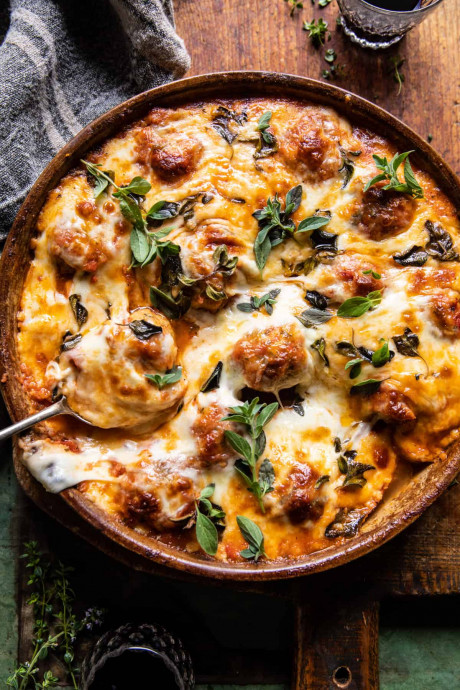 These Simple Baked Cheesy Italian Chicken Meatballs are best for cold fall and winter nights when you want easy comfort food at home. All mixed in one bowl, these meatballs come together easily and are so flavorful. This dish is warm, saucy, cheesy, and so amazing. Add some crusty bread or pasta on the side for a delicious hearty meal. Perfect as a simple family dinner. Yet equally great as an appetizer for upcoming holiday entertaining.
Meatballs are something I've actually come to love to make. I use a trick my grandma taught me to keep them juicy and flavorful…but still super simple.
You guys are going to love how easy these are, and of course how delicious too!!
Ingredients:
1 pound ground spicy Italian chicken sausage (see note)
1 pound ground chicken
2 slices soft whole grain bread
2 eggs
1/3 cup grated parmesan cheese
2 small shallots, grated
2 cloves garlic, grated
1-2 tablespoons chopped pepperoncinis
1 jar (32 ounce) marinara sauce
1 cup shredded mozzarella cheese
1 cup shredded provolone
1/4 cup fresh oregano