Thai Curried Pumpkin Soup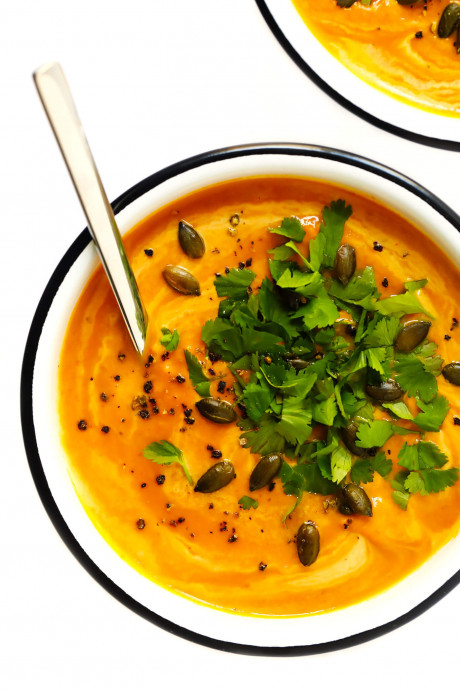 This Thai Curried Pumpkin Soup recipe only takes about 20 minutes to make, it's naturally vegan and gluten-free, and it is full of the best warm and cozy curry flavors.
First of all, the whole recipe was a breeze and came together from start to finish in less than 20 minutes, thanks to using canned pumpkin instead of roasting a fresh one from scratch. It also happened to be naturally gluten-free and vegan, thanks to the addition of some creamy coconut milk and good vegetable stock. And best of all, those warming Thai curry flavors paired perfectly with the pumpkin, resulting in the coziest blend of sweet, savory, and spicy flavors that we both loved.
It's exactly the kind of quick, easy, and healthy dinner recipe that I love this time of year. So the next time you're at the store — or the next time you expats make a pilgrimage across town to those special import stores — pick up a few cans and let's make a batch together!
Ingredients:
1 tablespoon olive oil
1 small white onion, peeled and diced
3 cloves garlic, minced
2 tablespoons red curry paste
4 cups vegetable stock
1 cup coconut milk
2 (15-ounce) cans pumpkin purée
1 teaspoon ground cumin
1 teaspoon ground ginger
1/2 teaspoon sea salt
optional toppings: chopped fresh cilantro, pepitas, sliced red onions, and/or sliced Thai bird chiles