Creamy Thai Carrot Sweet Potato Soup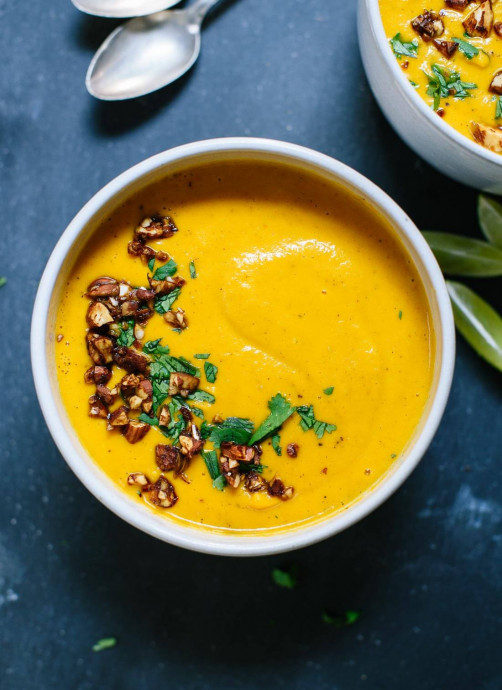 Is it too soon for soup? When I had a full-blown cold last week, soup sounded like just the ticket. Carrots, sweet potato, and warming Thai curry blended with an unexpected ingredient—almond butter—made it a sweet and spicy, rich soup. I wish it could say it cured me for good (if only soup could), but it definitely made me feel better that evening. And the next morning, when I heated up leftovers for breakfast.
This nutritious, Thai-spiced carrot and sweet potato soup will warm you right up! The tamari almonds are a nice, crunchy touch. Be sure to season this soup with enough salt and lime juice so the flavors really sing. Recipe yields about 8 cups soup (4 servings).
Ingredients:
1 tablespoon coconut oil
2 cups chopped yellow (sweet) onion
2 cloves garlic, minced
1 tablespoon minced fresh ginger
2 tablespoons red curry paste
4 cups low-sodium vegetable broth, plus more if needed
¼ cup raw almond butter or peanut butter
3 cups diced peeled carrots
3 cups diced peeled sweet potatoes
½ teaspoon fine-grain sea salt, plus more to taste
Freshly ground black pepper
Up to ¼ teaspoon cayenne pepper (optional, if you like spice)
Toppings
Minced fresh cilantro
Fresh lime juice
Roasted tamari almonds (optional, see below)
Roasted tamari almonds
½ cup raw almonds, finely chopped
1 tablespoon plus 1 teaspoon low-sodium tamari or coconut aminos