Bacon Bourbon Meatballs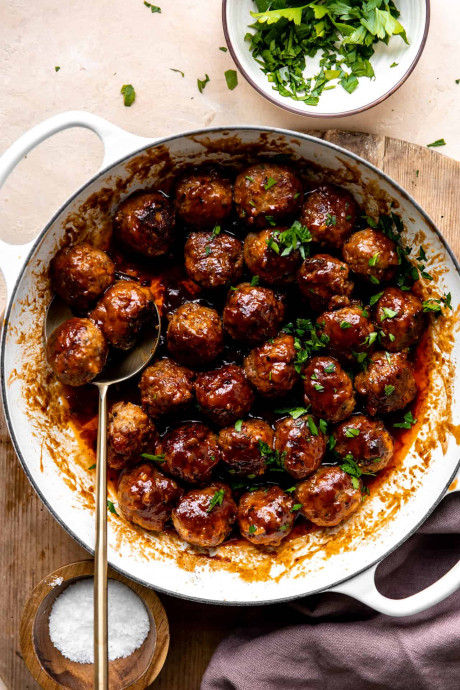 Rich and flavorful Bacon Meatballs simmered in an indulgent Bourbon BBQ sauce. Ready in 30 minutes, they make a perfect appetizer or a delicious weeknight family dinner served on sandwich rolls or over a bed of creamy mashed potatoes.
Texture & Taste: The meatballs are crispy on the outside, juicy on the inside and ultra flavorful thanks to the rich and indulgent Bourbon BBQ sauce they are simmered in.
Great for family dinner: serve these bacon meatballs on some sandwich rolls with melty provolone cheese. Or over a bed of creamy, white cheddar mashed potatoes.
Fun Appetizer Meatball option: add some flair to the appetizer table with this recipe! They will stay nice and warm in a small slow cooker.
Ingredients:
6 slices bacon
½ yellow onion, chopped
1 lb ground beef
½ cup breadcrumbs
2 tbsp parsley, chopped
1 large egg
1 tsp chili powder
1 tsp salt
1 tbsp vegetable oil
1 cup barbecue sauce
½ cup beef broth
3 tbsp bourbon