Lemony Artichoke Soup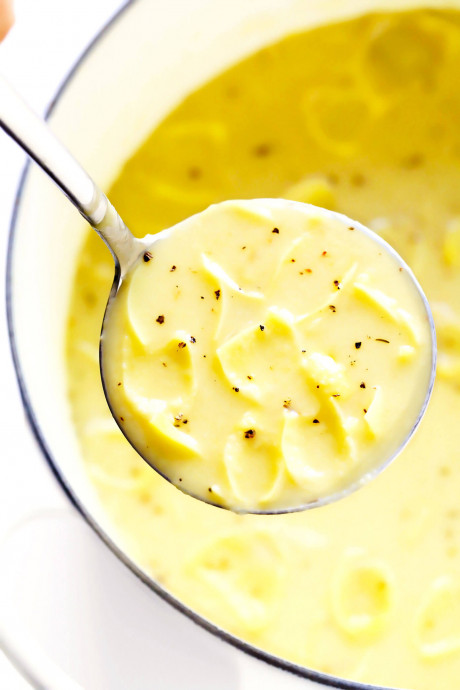 My mother-in-law's famous lemony artichoke soup recipe is easy to make in just 30 minutes, it's made with simple pantry staples, and it's so lovely and flavorful!
The good news for all of us is that this artichoke soup is incredibly quick and easy to make in less than 30 minutes. And as a bonus — especially helpful right now while we're all stuck at home — this recipe also happens to be sourced entirely from pantry and refrigerator staples. I've also included tips for how to make this soup gluten-free and/or vegan, if you prefer. And I highly recommend leaving all of those cute little artichoke petals intact, as Jen does, instead of blending them into the usual artichoke soup puree. It makes for the loveliest presentation and feels so special and decadent. And when served up with a big piece of crusty bread, my husband and I agree that there's nothing better.
So gather up a few jars of artichoke hearts, and let's make some lemony artichoke soup together!
Ingredients:
1/4 cup (4 tablespoons) butter
1 small white onion, peeled and diced
1 celery stalk, diced
3 garlic cloves, minced
1/4 cup all-purpose flour
6 cups chicken or vegetable stock
2 bay leaves
1 teaspoon dried thyme
3 (14-ounce) jars artichoke hearts, drained
1/4 cup freshly-squeezed lemon juice
fine sea salt and freshly-cracked black pepper, to taste
optional toppings: smoked paprika, lemon slices, and/or chopped fresh herbs*