Shredded Brussels Sprout Bacon Salad with Warm Cider Vinaigrette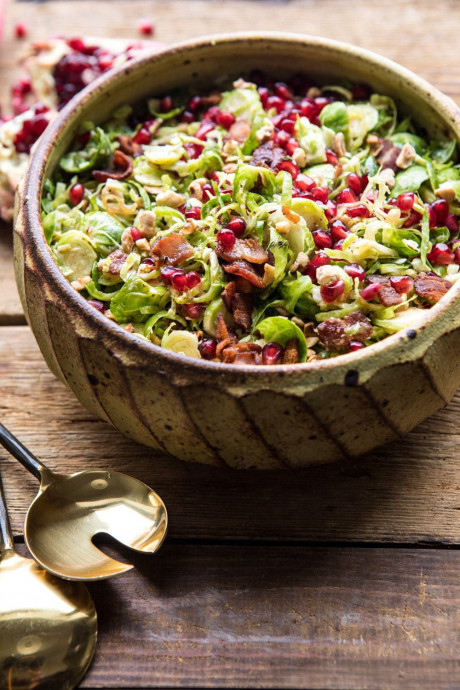 This shredded brussels sprout bacon salad has quickly become one of my favorites. It's quick, festive, and so delicious. Shredded brussels sprouts, nutty manchego cheese, toasted hazelnuts, and juicy pomegranates, all tossed with a warm cider vinaigrette that's sweet and tangy. Every bite of this salad is bursting with flavor. Great as a light lunch, served alongside your favorite dinner, or at your next holiday gathering!
The warm vinaigrette takes the bitterness out of the raw brussels sprouts by beginning to cook them just ever so slightly. It adds a sweet, tanginess that compliments the brussels sprouts very nicely.
The pomegranates add a freshness of color, and a burst of juicy flavor with every bite. Plus, they're my favorite fruit to put in salads.
Ingredients:
6 cups shredded brussels sprouts (about one 12 ounce bag)
1 1/2 cups grated manchego or parmesan cheese
1/2 cup toasted hazelnuts or pecans, roughly chopped
1 1/2 cups pomegranate arils
6 thick cut slices bacon, chopped
1/3 cup extra virgin olive oil
1 medium shallot, thinly sliced
2 tablespoons apple cider vinegar
1 tablespoon apple butter or fig preserves
1 tablespoon fresh thyme leaves
1 teaspoon fresh orange zest
kosher salt and black pepper
pinch of crushed red pepper flakes