Swedish kanelbullar (cinnamon buns)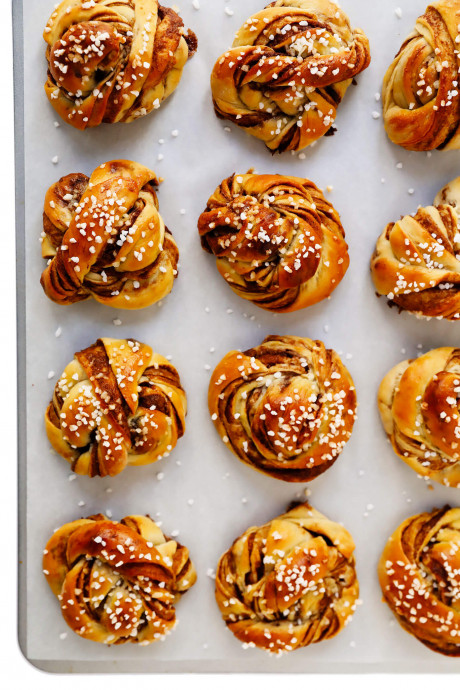 This traditional Swedish kanelbullar (cinnamon buns) recipe is made with a perfectly soft and chewy cardamom dough, a buttery cinnamon-sugar filling, and twisted into cute little knots.
Here are a few recipe variations that you are welcome to try too:
Make them vegan: Use a plain plant-based milk (such as almond milk or oat milk) or water, in place of the cow's milk. Then use vegan butter in the dough and filling, and brush the rolls with melted vegan butter instead of an egg wash.
Make them ahead of time: If you would like to prep the rolls the night before, just follow the recipe until the dough is twisted into knots. Place the knots in a baking sheet or in a baking dish, cover and refrigerate overnight. Then let them rest on the counter until they reach room temperature (about 60-90 minutes), then bake as directed.
Roll the buns like round cinnamon rolls: If you would like to skip the twisting, you are welcome to roll out and slice the rolls like I do in this recipe.
Ingredients:
DOUGH INGREDIENTS:
1 cup milk
1/4 cup (56 grams) unsalted butter
3 1/4 cups (405 grams) all-purpose flour
1/4 cup (50 grams) white granulated sugar
2 1/4 teaspoons (7 grams) instant-rise yeast
2 teaspoons ground cardamom
3/4 teaspoon fine sea salt
FILLING INGREDIENTS:
1/2 cup (113 grams) unsalted butter
1/2 cup (100 grams) packed light brown sugar
2 tablespoons ground cinnamon
1 teaspoon ground cardamom
1 teaspoon vanilla extract
TOPPING INGREDIENTS:
1 egg (whisked together with 1 tablespoon water)
pearled sugar