Poppy Seed Thumbprints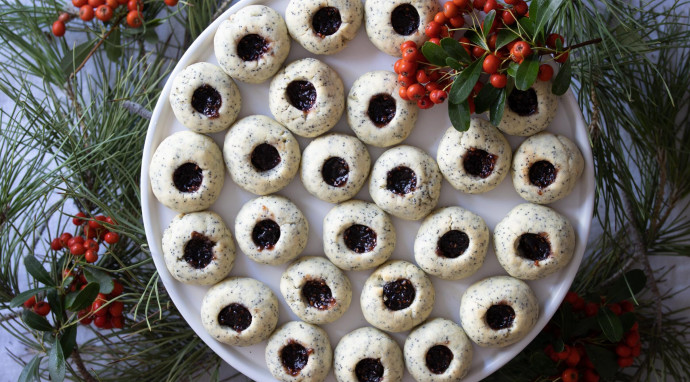 All year round cookie that gets all the attention during the holiday season. May it be because of the colorful display of the jam against the sparks of poppy seeds. Or may it be the small bite-size, I have made those little delights every Holiday season as far back as I can remember. One thing for sure, they are highly addictive. The best part: they take no time to have a fresh batch made.
Excellent for an afternoon tea, or morning coffee. How about with a cup of hot chocolate for the little one? Pretty table set up and all of a sudden you are transported to a fun afternoon.
TIPS:
Make sure that the butter is a room temperature so you will be able to work it better with the sugar.
To have even baked poppy seed thumbprints, ensure all the small dough balls are the same size.
The end of a wooden spoon will give you the perfect indentation. I tried the back of the spoon and that was a disaster.
I love raspberry preserve. However, do use whichever preserve you have on hand. They are delicious with peach and apricots preserve and make a pretty color presentation with the dark raspberry.
Ingredients:
2 cups all-purpose flour
1/4 teaspoon salt
1/4 cup poppy seeds
1 cup unsalted butter, slightly firm
1/2 cup sugar
2 large eggs
1 teaspoon pure vanilla extract
raspberry preserve