Pumpkin Beer Pretzels with Chipotle Queso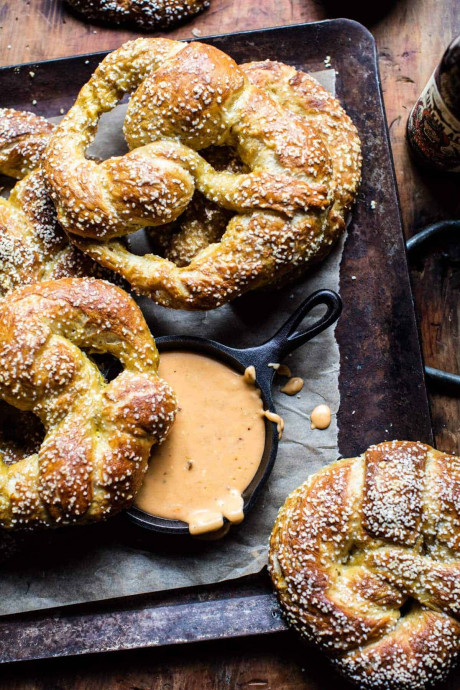 Um, YES… that's right, soft buttery pretzels dipped in a creamy cheddar cheese sauce. We are so going there today, and it is going to be everything!
SIDE NOTE: after all, it is game day, so these pretzels are totally worth every calorie and every carb. Just make sure to be an active fan.
If you've never made soft pretzels before, please don't be intimidated. I promise they're actually pretty simple and easy to make, and the dough is very forgiving. The trickiest part is boiling the pretzels, but it's really not a huge deal. So please, don't fear them. You really have to give them a try – soft pretzels are one of my favorites!
Everything starts with the pretzel dough, and the secret here is the pumpkin beer, it adds SO much flavor. Personally, I always think of beer and pretzels together since that's kind of my dad's thing when watching football, beer, and those hard sourdough pretzels. So I just combined the flavors and made one seriously delicious soft pretzel. Honestly, these are so good. Soft, doughy, buttery, and with the slightest hints of beer and autumn.
Ingredients:
1/2 cup warm water
2 tablespoons light brown sugar
2 1/4 teaspoons active dry yeast
1 cup pumpkin beer or any beer you love
1/2 cup (1 stick) unsalted butter melted
1 1/2 teaspoons kosher salt
4 1/2 cups all-purpose flour
1/4 cup baking soda for boiling the pretzels
1 egg beaten, for brushing before baking
coarse sea salt or pretzel salt
Chipotle Queso
1 tablespoon butter
4 ounces cream cheese at room temperature
1 1/2 cups whole milk
12 ounces sharp cheddar cheese shredded
1 tablespoon all-purpose flour
2 chipotle peppers adobo finely minced