Baked Sweet Potato Parmesan Tater Tots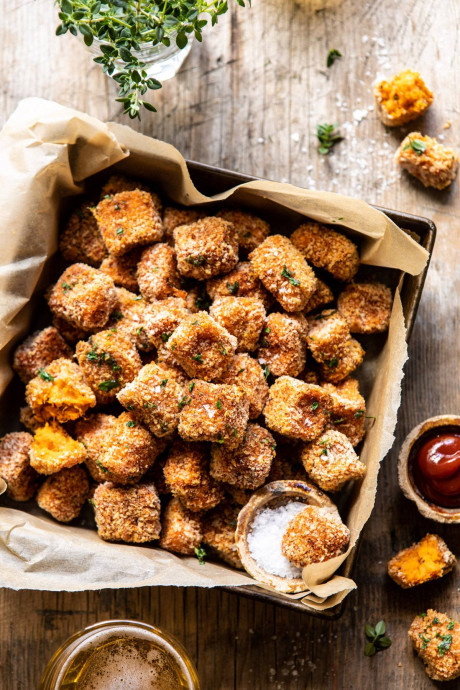 The most perfect Baked (extra crispy) Sweet Potato Parmesan Tater Tots. Made simply with sweet potatoes, parmesan cheese, butter, fresh herbs, plenty of flaky sea salt and black pepper. Each homemade, oven-baked tater tot is delicious…and pretty healthy too. The secret? Rolling the mashed sweet potatoes in Panko bread crumbs for a crispy on the outside, soft on the inside tater tot. Once the tots are out of the oven, drizzle with herb butter. SO GOOD. Serve these crispy sweet potato parmesan tater tots with ketchup. Or just simply enjoy them warm right out of the oven as is. Best autumn appetizer, side dish, or game-day snack!
These are without a doubt one of my favorite recipes. Oh my gosh.
But then, what's not to love? Oven-baked sweet potato tater tots with herbs, garlic, and butter. Plus crispy Panko bread crumbs, and oh my gosh…parmesan too! The best ingredients all together in a cute little tater tot.
Ingredients:
4 medium sweet potatoes
1 cup grated parmesan cheese
kosher salt and black pepper
1 clove garlic, grated
2 cups Panko bread crumbs
2 teaspoons chipotle or regular chili powder
extra virgin olive oil, for brushing
4 tablespoons salted butter
2 tablespoons fresh thyme leaves
1 tablespoon chopped fresh parsley
2 teaspoons chopped fresh sage