Coconut Sweet Potato Lentil Soup with Rice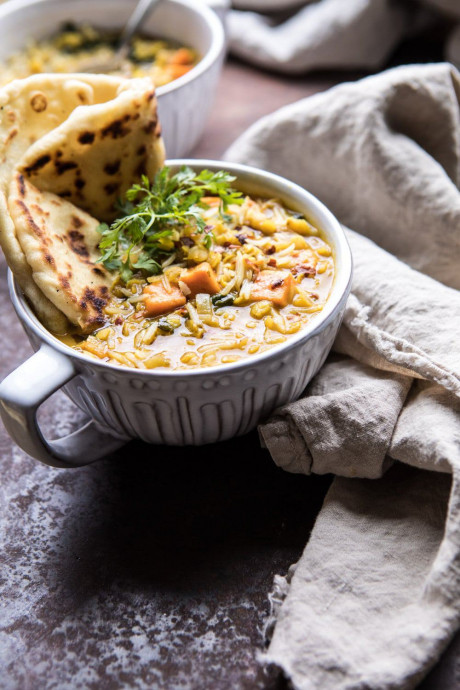 When you're in need of warming comfort food, but you also want healthy, this Coconut Sweet Potato Lentil Soup with Rice is just the soup to make. All made in just ONE pot (or in your instant pot), in less than an hour, and using good for us ingredients like sweet potatoes, red lentils, warming spices, and creamy coconut milk. It's cozy, a little spicy, and filled with vegetables. Finish each bowl off with steamed rice and you'll have the perfect healthy bowl of soup for lunch or dinner.
When I get stuck creatively, I try to look at flavors and foods just slightly out of my comfort zone. I tend to fall back on cozy foods…pastas, creamy soups, and pretty much anything roasted. Those are my go-to's and very much in my comfort zone.
This is why, when I get in a recipe rut, I love to step outside my box, and explore flavors I don't use as often as I should.
Enter this soup. This soup is SO flavorful, SO full of color, and filled with good for us ingredients. Yet it feels totally comforting with the sweet potatoes, creamy coconut milk, and rice. I love serving it with my homemade naan (obviously). It's our favorite over here.
Ingredients:
2 tablespoons extra virgin olive oil
1/2 yellow onion, chopped
1 inch fresh ginger, grated
2 cloves garlic, minced
2 sweet potatoes, peeled and cubed
1 tablespoon yellow curry powder
1/2 teaspoon cayenne pepper, more or less to taste
4 cups low-sodium vegetable broth or water
3/4 cup dried red lentils
kosher salt
1 can (14 ounce) coconut milk
2 cups baby spinach
2 cups cooked basmati rice
1/3 cup fresh cilantro, chopped, plus more for serving
fresh Naan, for serving