Pumpkin Ginger Soup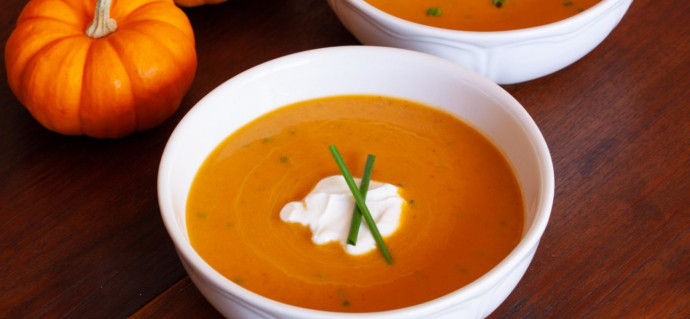 Pumpkin ginger soup. Always welcomed this time of year to warm up our crispy autumn day.
Velvety and savory, I love to offer this soup not only on a cold night but also at our Thanksgiving dinner. Served in small bowls, it is the perfect started to a great evening.Playing with flavors is the fun of cooking. As you will notice with this recipe, ginger, peanut butter, garlic, and evaporated milk all together create a smooth creamy soup.
Not one ingredient overpowers the other, but all play a perfect balance. The sweetness of the pumpkin blends well with the bite of the ginger. You can add sour cream at the end or not, a personal choice.
Very easy to assemble. Excellent served hot or at room temperature.
One of the great advantages is that it stores well. Furthermore, it can be made the day before and warm up at the last minute. I love that it can be made early, thus freeing us from the kitchen and giving us more time with our family and friends.
Low in calories and rich in vitamins and minerals, beta carotene is one of them.
A great addition to your favorite soup recipes at this time of year when we are looking for something new for the upcoming holiday.
Ingredients:
1 3/4 cup pumpkin
1 14.5 ounces can chicken broth
1 1/2 cups mango nectar
1 tablespoon grated fresh ginger
3 garlic cloves minced
1 5-ounces can evaporated milk
1/3 cup creamy peanut butter
2 tablespoons rice vinegar
Dash hot pepper sauce
1/4 cup finely chopped chives
sour cream (optional)