Baked Buffalo Chicken Egg Rolls with Cilantro Lime Ranch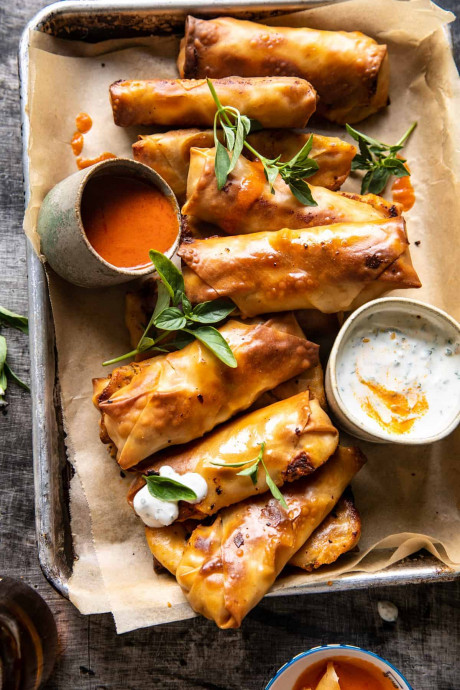 Shredded chicken, buffalo sauce, herbs, and a little cheddar cheese, all rolled up into egg roll wrappers and oven baked. These egg rolls come together in minutes, they're crunchy on the outside, and spicy and cheesy inside. Serve with the most delicious creamy, salty cilantro lime ranch, and additional buffalo sauce. Great for a fun weeknight dinner plus upcoming game nights too.
I used fresh cilantro and plenty of lime in place of the usual herb mix. I also stirred in some garden chives for a little oniony kick. It's the perfect creamy dip for each cheesy, crispy, crunchy egg roll.
Think spicy crispy rolls, creamy cooling dip. So. Good. And regardless of school or no school, football or no football, these egg rolls are super easy to make and beyond good. And that's what matters most!
Have fun with these and enjoy!
Ingredients:
1 1/2 cups cooked shredded chicken
1/3 cup plain greek yogurt
1/2 cup buffalo sauce plus more for serving
2 tablespoons chopped fresh chives
2 tablespoon dried parsley
2 teaspoon dried dill
1 teaspoon onion powder
1 teaspoon garlic powder
kosher salt
1 cup shredded cheddar cheese
1/4 cup crumbled blue cheese
20-22 square egg roll wrappers
Cilantro Ranch
1 cup sour cream or plain Greek yogurt
3/4 cup fresh cilantro, finely chopped
1 tablespoon chopped fresh chives
1 teaspoon garlic powder
1 teaspoon onion powder
juice from 2 limes