Pork Chops With Balsamic Caramelized Onions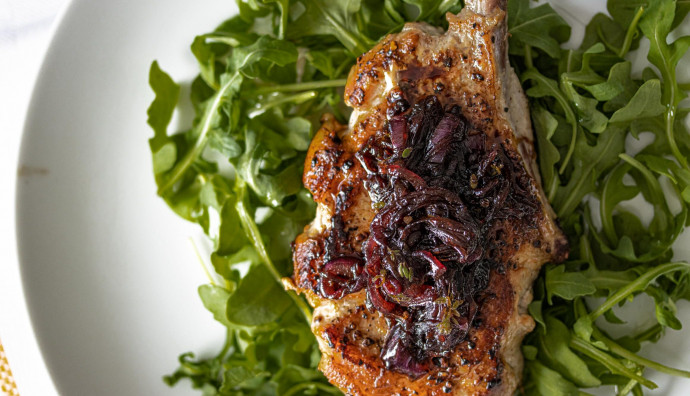 Pork to me is one of the most versatile meat to cook with. Here is a very simple recipe that not only is easy to make but is also fail-proof. A perfect weeknight dinner for the whole family.
The red onion once caramelized is softer and sweeter and a great pairing with the balsamic vinegar. I served the pork chops on a bed of arugula salad, however, couscous, rice, roasted vegetables are also a good choice of sides for this dish or pork in general.
Ask your butcher if he can get you or special cut 1 1/2 inch thick pork chops. The thicker the chops, the juicier they will be. Cook them until a hint of pink is still showing. Letting them rest covered, will finish the cooking process.
Ingredients:
4 bone-in center-cup pork chops 6 ounces each (1 to 1 ½ thick)
3 tablespoons olive oil
1 large onion halved and thinly sliced
salt
2 teaspoons coarse ground black pepper
⅓ cup balsamic vinegar
1 teaspoon fresh thyme leaves