Baked Hoisin Sauce Chicken Wings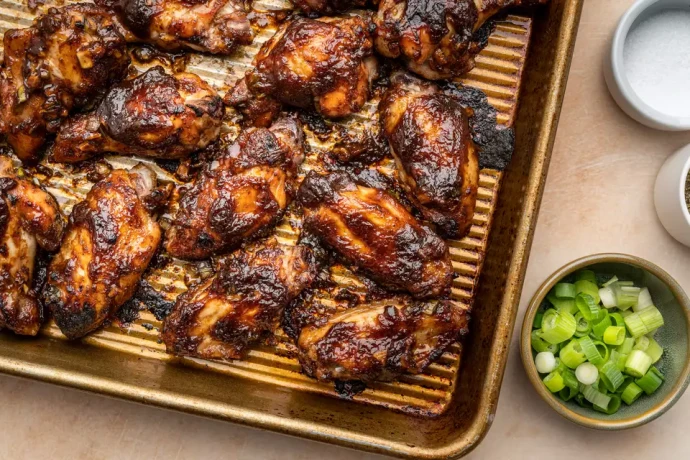 Chicken wings are a staple of American gatherings because they're easy to make and to eat, require very little cooking, and are also budget-friendly. Hoisin sauce is a boldly flavored preparation that is commonly used in Cantonese cuisine to season all sorts of meats or to dip doughy and fried preparations in, like egg rolls or pork buns. Our chicken wings coated with Hoisin sauce make a great appetizer or main dish—depending on the quantity you serve per person—and are wonderfully succulent bites that are easy to make and delicious to eat. Most of the work is hands-off, during which you can prepare other dishes to serve alongside the wings, like a fresh salad and plain steam buns, which counterbalance the rich flavor of the wings. A quick marinade in the sauce, alongside honey, seasonings, garlic, and ginger, provides the wings with an injection of flavor that will enhance once the wings go in the oven for just 35 minutes. Keep leftovers for up to 3 days, covered, in the fridge.
Although many variations on the sauce exist, the common threads are its dark, thick texture and a deep soy flavor derived from fermented soybeans. Sweet and savory Hoisin sauce is filled with spices like chili peppers and garlic. Used widely in Vietnamese cuisine too, the sauce is included with a variety of proteins like pork, chicken, beef, duck, and plant-based proteins like tofu and tempeh. In its true form, Hoisin sauce is not gluten-free, as it contains wheat-derived ingredients used as thickeners, but tamari-based gluten-free sauces do exist.
Ingredients:
15 chicken wings
1 scallion, finely minced
2 cloves garlic, finely minced
1 slice fresh ginger, minced
4 tablespoons hoisin sauce
3 tablespoons water
1 tablespoon honey
3/4 teaspoon salt
1/2 teaspoon black pepper