Prosciutto Wrapped Chicken with Scalloped Potatoes (One Pan!)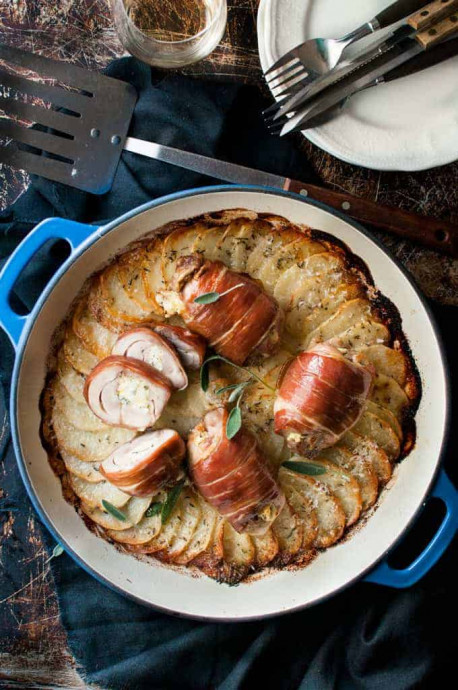 No string required to keep this Prosciutto Wrapped Chicken rolled up! This is two dishes that just happens to be made in one pan. The tasty juices from the chicken mingles with the salty prosciutto as it drips onto the potato. It's like potato gratin made with the best chicken broth ever! These scalloped potatoes….they are just GOLD. For something made with so few ingredients, the flavour is out of this world. And the secret is the chicken juice which drips onto the potatoes while they are baking via the salty prosciutto (more free flavour, more free flavour!).
The other little secret tip I have is making the surface of the potatoes golden brown pretty much all over. There's no denying that plonking chicken on top while it bakes means you get less browning on top on some parts of the surface of the potatoes. To get around this, firstly, I make sure to use a large baking dish or ovenproof skillet (pictured), so there is at least 50% of the surface area of the potatoes not covered by the chicken.
And secondly, right at the very end while the chicken is resting, I scatter over some parmesan, crank the heat right up to max and pop the potatoes back in for 5 minutes to brown the top.
Check out these golden brown potatoes!
Ingredients:
RICOTTA FILLING
2/3 cup ricotta
Zest of 1 small lemon , or 1/2 large lemon
1 1/2 tsp finely sliced fresh sage leaves (Note 1)
1/4 tsp salt
Pepper
PROSCIUTTO CHICKEN & POTATOES
4 chicken thigh fillets , skinless and boneless (about 5 - 7 oz / 150 - 200g each)
4 long or 8 small thin slices of prosciutto
1.5 lb / 750 g potatoes , peeled and cut into thin slices
1 garlic clove , crushed (optional)
1 1/2 tbsp olive oil + 1/2 tbsp extra olive oil
1 tsp dried thyme leaves
1/4 cup freshly grated parmesan
Salt and pepper