Roasted Cauliflower Soup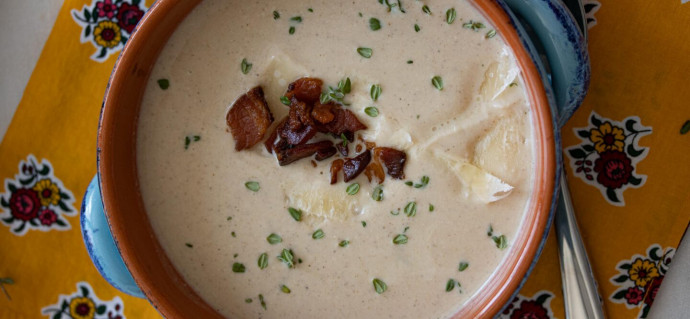 Roasted Cauliflower Soup. As fall is settling everywhere in the Northern hemisphere except on our side of the world where 100F still the daily norm, therefore I am bringing you a soup out of desperation and want for summer to be over with.
Super easy and with a short list of ingredients that will not require a special trip to the store, this soup is ready to be enjoyed in less than 45 minutes. I know roasted cauliflower soup may not strike your fancy. However, before you brush it off, give it a try you will be surprised how tasty it is.
By roasting the cauliflower, a natural caramelization occurs and giving this soup a greater depth of flavor.
Yellow onions are milder in flavor, and if you can found Vidalia, I highly recommend you using them. Sweetness delight.
Ingredients:
1 large head of cauliflower, trimmed and diced
3 tablespoons olive oil
6 thick slices of bacon, cut into 1-inch pieces
1 cup chopped yellow onion (Vidalia if you can)
2 cups low-sodium chicken broth
1 teaspoon chopped fresh thyme
1 teaspoon salt
½ teaspoon ground black pepper
¼ teaspoon nutmeg
2 ½ cups whole milk
½ cup heavy cream
1 cup freshly grated parmesan cheese
GARNISH