Dutch Apple Pie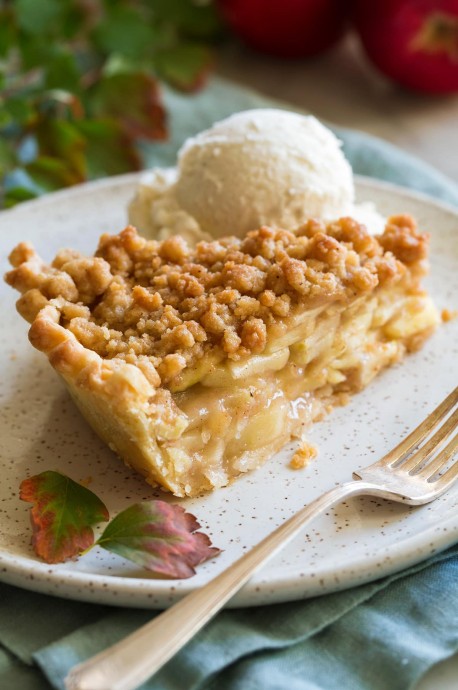 This Dutch Apple Pie is all-time favorite apple pie! Made with a flaky homemade pie crust, a deliciously flavorful apple pie filling and it's finished with a sweet and buttery streusel crumb topping. Pie doesn't get any better than this!
For the very best pie I highly highly recommend a homemade crust. But if you insist a store-bought crust will work too but the partial blind baking instructions can vary, just follow the guide on the package. While you may use any type of apples in apple pie, try it with golden delicious and granny smith. They golden delicious have a delicious apple-y flavor and granny smith hold up the structure of the pie. But if there's a baking apple you like better you can use it here, just keep in mind some bake up differently than others (as in taking longer to cook through and so forth). Jonagold and Braeburn apples would be two other good choices.
This pie does keep well for 2 days. I highly recommend reheating slices before serving with cold ice cream. If you'd like to serve the pie a few hours after baking but want some prep to be done the day before you can prepare the crust and blind bake the day before (store in the fridge then bring to room temp and fill) and you can also prep the crumble topping the day before and store in the refrigerator. Serve with vanilla ice cream for the ultimate fall dessert!
Ingredients:
1 cup (142g) unbleached all-purpose flour* (scoop and level)
2 tsp granulated sugar
1/4 tsp (heaping) salt
8 Tbsp (113g) unsalted butter, well chilled, diced into small cubes
3 - 5 Tbsp ice water
1/2 cup packed (100g) light brown sugar
3/4 cup (106g) unbleached all-purpose flour (scoop and level)
1/4 tsp ground nutmeg
1/8 tsp salt
6 Tbsp (85g) unsalted butter, melted
1 tsp vanilla extract
1 1/4 lbs (4 small) golden delicious apples, peeled cored and sliced 1/4-inch thick*
1 1/4 lbs (4 small) granny smith apples, peeled, cored and thinly sliced 1/6-inch thick
2 Tbsp unsalted butter, melted
1 Tbsp fresh lemon juice
1/2 cup (100g) granulated sugar
3 Tbsp (26g) unbleached all-purpose flour
1/2 tsp ground cinnamon