Shortbread Cookie Sandwich With Dulce De Leche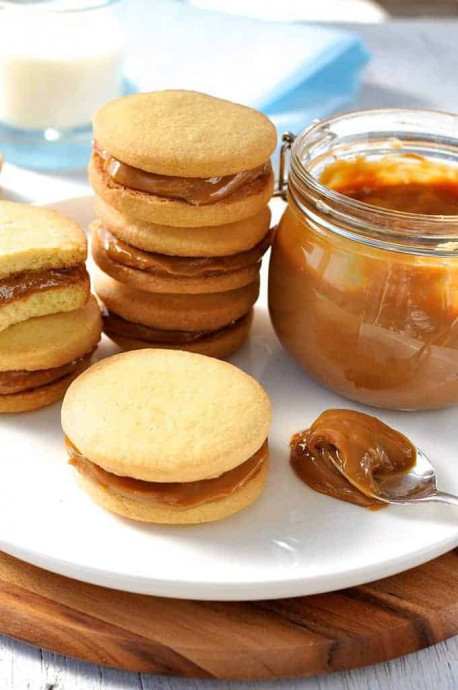 I am not one for baking cookies and cakes. So if I can get these Shortbread Cookie Sandwiches into the oven in 10 minutes, you can probably do it in 8 minutes! No mixer and just 3 ingredients. These insanely addictive morsels are based on a South American treat called Alfajores which are shortbread cookies spread with Dulce De Leche (caramel) and sandwiched together. The shortbread used in Alfajores is not difficult but …..well, honestly?
These cookie sandwiches are filled with Dulce De Leche made in a slow cooker which requires only 1 ingredient and takes 15 seconds to prepare. All you do is place sealed cans (without even removing the label) into a slow cooker, cover with water and then set and forget. When you open the can, you will be greeted with insanely rich, thick caramel which is perfectly smooth (no stirring required!). It's a miracle.
Ingredients:
225 g / 8 oz (2 sticks) unsalted butter , softened
1/2 cup icing sugar (powdered sugar), plus extra for dusting work surface
2 cups plain flour
Dulce De Leche