Parmesan Bacon Sourdough Mushroom Stuffing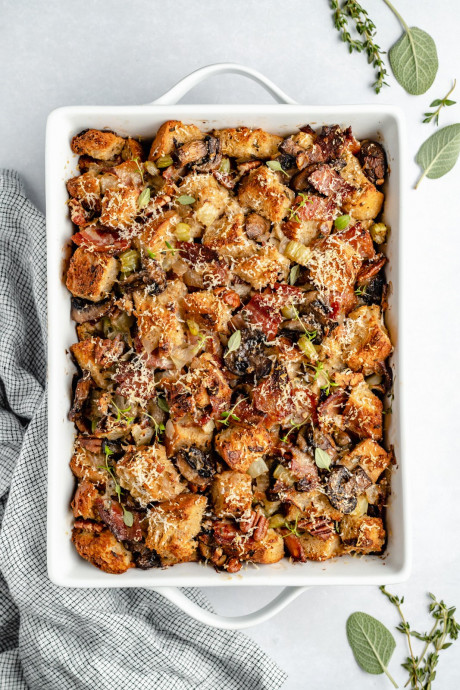 Delicious parmesan bacon mushroom stuffing made with sourdough bread and toasted pecans in every bite. This amazing homemade mushroom stuffing recipe is filled with flavor from fresh herbs and melted cheese that will have you going back for seconds. The perfect twist on a classic Thanksgiving side dish!
This incredible homemade mushroom stuffing is filled with savory flavor, fresh herbs and wonderful textures in every bite. Here's what you'll need to make it: Sourdough bread: I'm not a big fan of mushy stuffings so using sourdough bread is key in this recipe. The sourdough gives the stuffing the perfect texture and gets a little toasty on the top. You can also use cornbread if you prefer. Bacon: for a little extra savory goodness we're adding bacon to this stuffing! This is optional, so feel free to omit to keep the stuffing vegetarian. Butter: gotta have a healthy dose of good old butter to make the bread super toasty and delicious. Feel free to sub olive oil if you'd like. Garlic: fresh garlic adds a delicious flavor throughout the stuffing. Herbs: this homemade mushroom stuffing has hints of herby flavor from fresh thyme leaves & sage. Veggies: you'll add baby bella mushrooms, white onion and celery for a variety of textures. Eggs: you'll need two eggs to add moisture to the bread. Broth: feel free to use vegetarian broth or chicken broth for additional moisture. You can use a bit more (as noted in the recipe) if you like a very moist stuffing. Grated parmesan: this savory mushroom stuffing has parmesan cheese baked right inside and on top for wonderful cheesy goodness. Pecans: add a little crunch with some chopped pecans! They add the perfect texture. You could also use chopped walnuts, or feel free to omit to keep the stuffing nut free.
Ingredients:
1 pound sourdough, cut into 1/2 inch cubes
10 ounces bacon
2 tablespoons butter (or can sub olive oil)
3 garlic cloves, minced
1 tablespoon fresh thyme leaves
2 tablespoons fresh chopped sage
16 oz baby bella mushrooms, sliced
1 large white onion, chopped
3 stalks celery, diced
½ teaspoon salt
Freshly ground black pepper
2 eggs, lightly beaten
1 cup vegetarian or chicken broth (plus another 1/2 cup if you like a very moist stuffing)
½ cup grated parmesan
1/2 cup chopped pecans
1 tablespoon butter, diced into small pieces (or olive oil)
Topping:
2 tablespoons parmesan, for topping