Cranberry Crackle Tart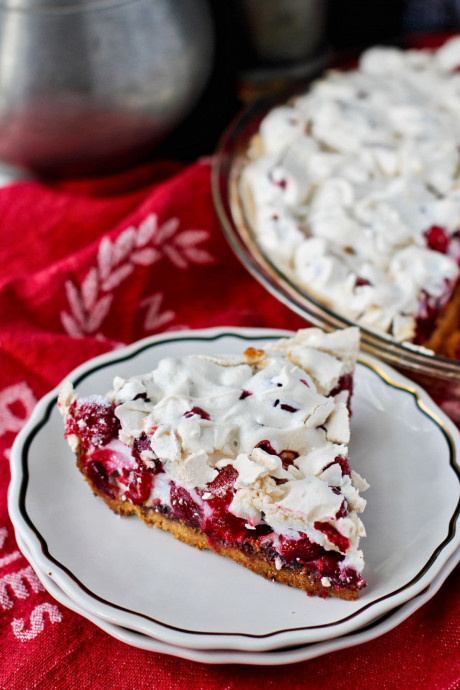 This cranberry crackle tart is a delicious combination of sweet meringue and tart fresh cranberries on a sweet cookie crust.
The tart also had a layer of sour cherry jam (you can use any jam, such as raspberry, blackberry, or strawberry) spread on the sweet pastry crust. This helps keep the cranberry juices from soaking through.
This cranberry tart is baked in a 300 degee oven for an hour. The lower temperature helps the meringue get crackly and crisp-tender without over browning. Plus, the cranberries hold their shape and do not burst at this temperature. And because cranberries are naturally high in pectin, the tart holds together really well without any other added ingredients. The texture is kind of like a Pavlova with fruit baked inside.
Ingredients
For the Tart Crust
1 1/2 cups (204 grams) all-purpose flour
1/2 cup (60 grams) confectioners' sugar
1/4 teaspoon salt
9 tablespoons (4 1/2 ounces; 128 grams) very cold unsalted butter, cut into small pieces
1 large egg yolk
For the Tart
2 tablespoons cherry (or other) jam
2 large egg whites, at room temperature
Pinch of salt
1/2 cup (100 grams) sugar
9 to 10 ounces cranberries (if they're frozen, don't thaw)