Cranberry Apple Pie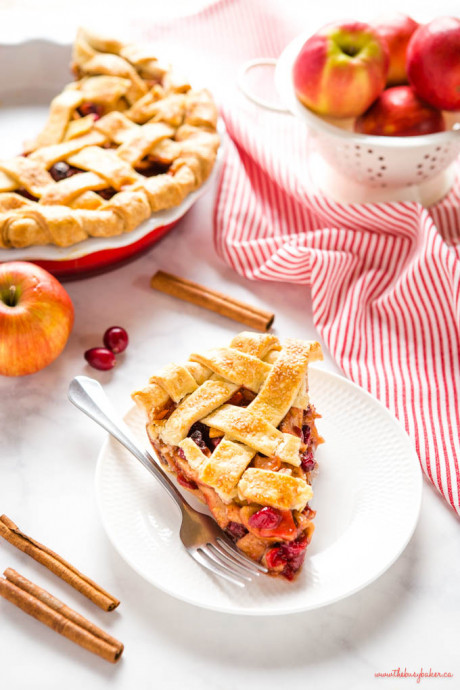 Cranberry apple pie is the perfect Thanksgiving dessert. Tart cranberries and sweet juicy apples baked to perfection inside a flaky, buttery pie crust. Plus my no fail tips on how to make the perfect pie, every time!
I don't know about your family, but in mine pie is a staple at our holiday table. And I'm a little embarrassed to say I have been known to scrape the filling out of my piece, leaving behind a pastry skeleton on my dessert plate. Don't get me wrong, I'm a baker at heart and I love to make (and enjoy) sweet treats, but there's just something about pastry that's not done quite right when it's soggy on the bottom, dry on the top, and it leaves that greasy film on the roof of your mouth.
It's for this reason that the thought of baking a pie from scratch can be downright intimidating, even for experienced bakers, because pastry is pretty easy to get wrong and because commercially made pie crusts are widely available at low prices and they just look so darn professional! Now, I'm not going to tell you that this is the best cranberry apple pie recipe in the world (because until I try every pie in the world I can't safely say that), but I will tell you that this is a fantastic recipe and I'm about to share some simple tricks to help you achieve a great homemade pie crust, every single time.
Ingredients:
For the pie crust:
2 1/2 cups all purpose flour
2 tbsp white sugar
3 tbsp canola oil
1 tsp salt
1 cup unsalted butter, cold from the fridge and cut into chunks
1/4 cup cold water
2 tsp lemon juice
For the filling:
8 apples, peeled and sliced
1 1/2 cups chopped fresh cranberries
3/4 cup white sugar
1/2 cup brown sugar
2 tbsp cornstarch
3 tbsp unsalted butter, cut into chunks
1 1/2 tsp cinnamon
1/2 tsp ground nutmeg
1/4 tsp cloves
For assembly:
Flour for dusting and rolling
1 egg yolk
2 tsp water
2 tbsp rolled oats
1 tbsp turbinado sugar (coarse sugar)