Chocolate Mousse Pie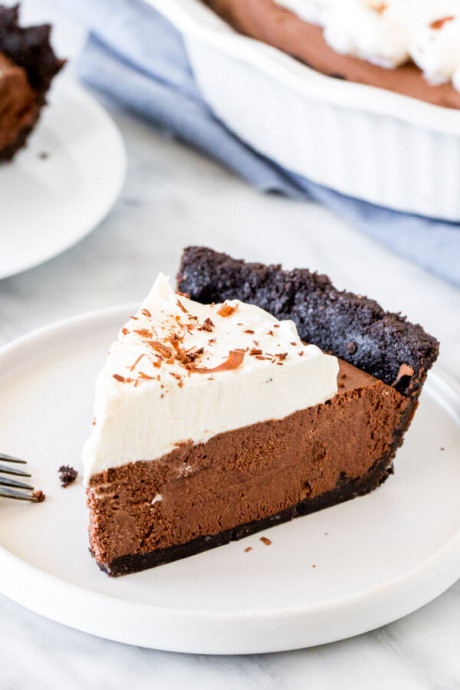 Decadent, creamy, and perfectly rich – this chocolate mousse pie is a showstopper. It's completely no-bake, and easier to make than you may think!If you love chocolate desserts that verge on sinful, then this chocolate mousse pie is for you. The chocolate mousse has a creamy, dark chocolate flavor and perfectly mousse-y texture. It's supported with an Oreo cookie crust and piled high with whipped cream to create a pie that not only looks impressive – but also packs a serious chocolate punch.
The chocolate mousse filling uses an easy, shortcut method. Traditional chocolate mousse is made with raw eggs and can be pretty tricky to make. This recipe is made without the eggs though, so your pie is also a lot safer for more people to eat and the recipe is a lot more foolproof than the endless whisking that's required when making mousse the traditional way. The mousse filling is a little firmer than traditional chocolate mousse – which is perfect for slicing pieces of pie.
Ingredients:
25 Oreo Cookies wafers and filling
4 tablespoons unsalted butter melted
8 oz dark chocolate* 50-70%
3 tablespoons unsalted butter cut into a few pieces
2 cups mini marshmallows
⅓ cup water
1 ⅔ cup heavy cream
½ cup heavy cream
chocolate shavings*