Avocado Caprese Salad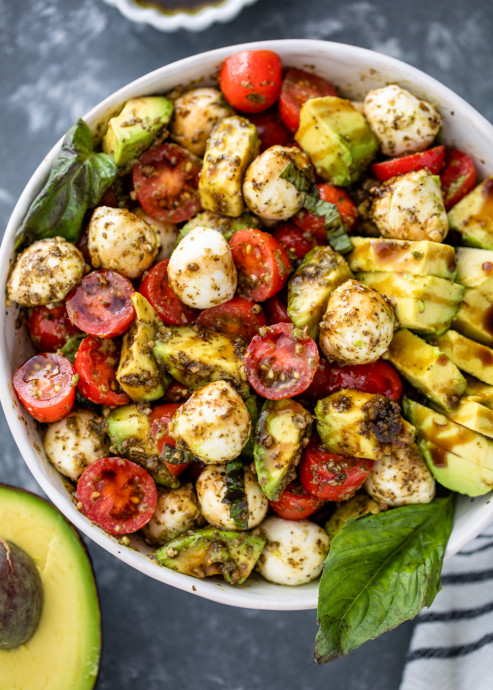 Get ready for this delicious Avocado Caprese Salad. It's packed with flavor, has ripe avocados, fresh mozzarella cheese, basil leaves, tomatoes, garlic, and an amazing balsamic glaze. Throw the salad together quickly for those busy nights when you don't feel like cooking.
I love eating salads for lunch several times a week. However, I don't want a boring salad, I want something with flavor and pizzazz. Thankfully, I have several tasty salads to make that all have lots of flavor and texture.
That's where my avocado Caprese salad shines. It's anything but boring, and I am always happy to eat it. Even the kids can't resist the incredible way it tastes, and it's texture. It's packed with light and refreshing ingredients, so it's impossible not to enjoy it.
The star of this dish is the fresh mozzarella. This is not an ingredient you'll want to skimp on. I highly suggest getting your hands on the best quality mozzarella you can find. My favorite brand is Fresh mozzarella. Their products are all-natural with no whiteners or preservatives added and are all crafted in the fior di latte tradition. The result is fresh delicious Mozzarella that tastes like it came straight from Italy!
Ingredients:
8 ounces Galbani Fresh Mozarella Salad
2 ripe avocados (chopped)
1 cup grape or cherry tomatoes (halved)
1/4 cup fresh basil leaves (roughly chopped)
2 tablespoons basil pesto (optional)
2 tablespoons olive oil
1 teaspoon minced garlic
2 tablespoons balsamic glaze
salt (to taste)
pepper (to taste)