Crispy Chicken Bacon Ranch Wraps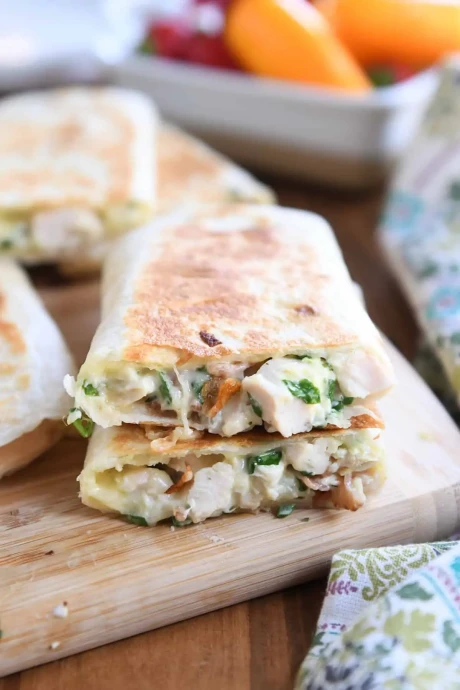 Holy moly, these crispy chicken bacon ranch wraps are so crazy delicious, you won't believe it. Plus, they take just minutes to throw together!
This jumble of deliciousness is about to become your new BFF once it's sandwiched inside a cheese-laden tortilla and cooked until golden and crispy. Making these wraps is really easy.The biggest draw is that they make such a fast, simple weeknight dinner. And if you're in that phase of life where dinner needs to be grab-and-take-with-you, then the value of these wraps just exponentially increased.
We've also learned that they make great leftover lunches (and have subsequently been packed and whisked away in school lunches), which means in good faith, I should issue this fair warning: the leftover wraps may inspired elbows to be thrown and words to be spoken in argument – or defense – of who "deserves" the leftovers.
Ingredients:
3 cups (425 g) cooked, chopped chicken
2 cups (57 g) lightly packed baby spinach, chopped
6 slices (72-80 g) bacon, cooked and crumbled
½ cup ranch dressing (see note)
1 tablespoon dry ranch mix (optional – see note)
1 ½ cups (170 g) shredded cheese (see note)
6 burrito-size tortillas (10-inch)