Sea Salt & Herb Skillet Rolls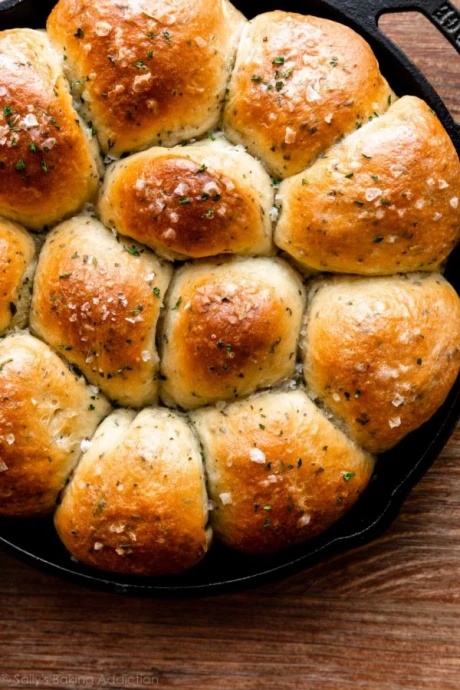 If you're looking for a flavorful upgrade to ordinary dinner rolls, try these sea salt & herb skillet rolls. Infused with rosemary, basil, parsley, and garlic powder and topped with melted butter and flaky sea salt, each bite is as aromatic as it is delectable. They certainly steal all the attention from the main dish on the table! You can bake these soft and flaky rolls in an oven-safe skillet, but they're just as tasty in a regular 9×13 inch baking dish. There's no arguing that homemade bread is delicious, but adding plenty of herbs, garlic powder, sea salt, and a brush of melted butter transforms ordinary bread into a flavorful indulgence. Let me show you how to make them so you can experience this BREAD BLISS too!
Enjoy rosemary, parsley, basil, and garlic all at once in a buttery roll with sea salt on top. This recipe has a range of some of the BEST flavors around. If you love the garlic, salt, and herb in this recipe, try this rosemary garlic pull apart bread next– it's a personal and reader favorite.
Ingredients:
1 cup (240ml) whole milk, warmed to about 110°F
2 and 1/4 teaspoons active dry yeast (1 standard packet)*
2 Tablespoons granulated sugar, divided
1 large egg, at room temperature
1/4 cup (4 Tablespoons; 60g) unsalted butter, melted + slightly cooled and divided
1 teaspoon salt
2 teaspoons each: dried rosemary, dried basil, & dried parsley*
1 teaspoon garlic powder (or 2 teaspoons minced garlic)
3 cups (390g) bread flour (spoon & leveled), plus more for work surface
flaked or coarse sea salt, for topping