Chewy Chocolate Molasses Cookies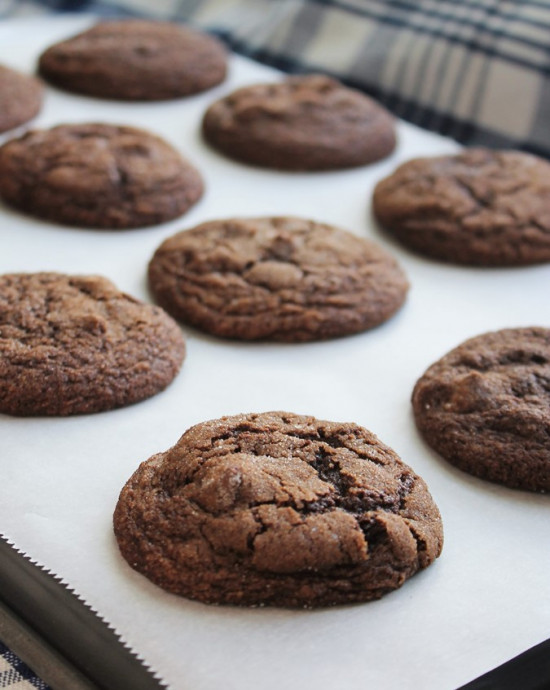 These chocolate cookies are fairly quick and easy to throw together in one bowl – wet ingredients mixed in with the dry ingredients. Add chocolate chips and toasted nuts (optional) and you're done.
The recipe calls for a 2-hour or more refrigeration period and you'll find it really does need it. The batter/dough is very thin – almost like brownie batter – and needs to firm up quite a bit to create the pretty, crackly end result.
Molasses adds such a nice depth to these and the spices really make it a special cookie. You'll be reminded that the holidays are around the corner when you get a whiff of the cinnamon and bit of ginger while they're baking.
These Chewy Chocolate Molasses Cookies will be a unique and delicious addition to Thanksgiving or Christmas desserts table.
They're best the first or second day after baking, but will still be pretty good on the 3rd day. If you want to do pre-baking, just let them cool completely and then freeze them for use later.
Ingredients:
3/4 C butter, melted
1/3 C brown sugar, packed
1/3 C granulated sugar
1/3 C molasses
1 large egg
1 tsp vanilla
1 1/2 C all-purpose flour
1/2 C cocoa powder
1 tsp baking soda
1 tsp cinnamon
1/4 tsp ground ginger
1/2 tsp salt
1 C chocolate chips
1 C chopped toasted pecans (optional)
1/2 C granulated sugar (for rolling dough)