Vanilla Sponge Cake with Pineapple Filling and Caramel Frosting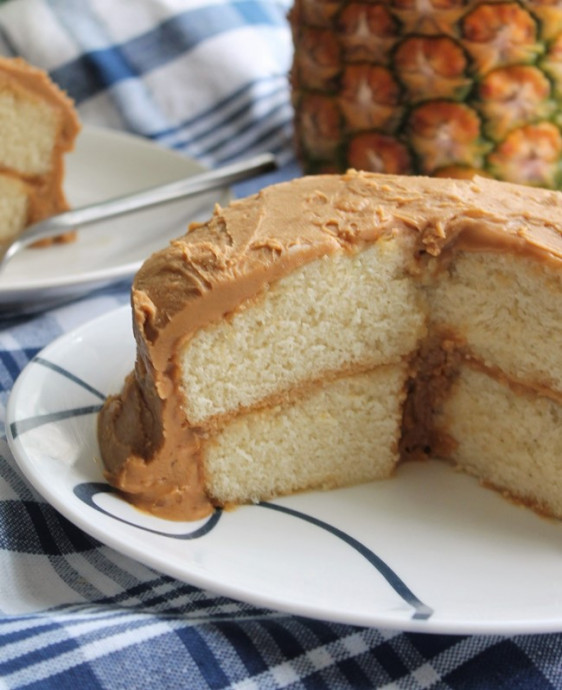 The sponge of this cake is light because of the different process of hand-folding the flour into the batter. That keeps the cake lighter and less dense. The tiny little cake bakes up beautifully, it tastes great, and the caramel icing is fantastic.
Here's a couple of hints to consider while making this cake. Don't go blow dry your hair while the caramel icing is being beaten in your stand mixer. It will look like brown sugar when you get back. Don't add too much cream to try to fix it or you get caramel sauce instead of frosting. (Thus, the "cleaning up the mess" I referred to.)
Don't put too much pineapple in the filling thinking the more, the better. Pineapple, no matter how well drained, still has liquid. This liquid makes things slidey.
After refrigerating for awhile, the frosting thickened up and I finished frosting this wonderful cake. Here's another photo I finally got of the cake with a puddle of frosting at the base. That's not a bad thing, though.
Ingredients:
2 eggs
3/4 C sugar
1/2 C whole milk
1/4 C unsalted butter
1/2 tsp vanilla extract
1 C all-purpose flour
1 tsp baking powder
1/4 tsp salt
1/4 C canned crushed pineapple, juice drained and reserved
Caramel Frosting:
2 1/2 C sugar, divided
3 tbsp butter
1/4 tsp baking soda
1 C heavy cream
1/2 tsp salt