Easy Cornish Pasties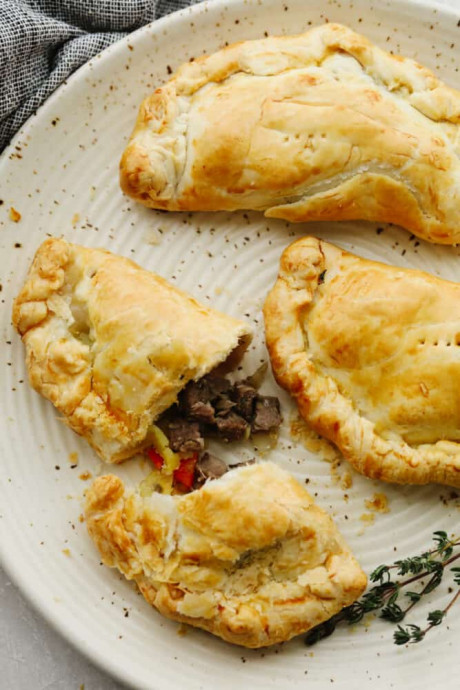 These traditional English cornish pasties are SOO GOOD! The outside is a flaky crust that's filled with delicious steak, potatoes, and veggies! If you haven't tried this before then you are in for a real treat!
This makes the perfect entree for any meal. Pair it with this delicious asparagus, these simple rolls, and this salad. It will be a meal that everyone in the whole family will love!
A Cornish pasty comes from Cornwall, England. If you are looking for traditional English comfort food at its finest then this is it! This was originally made for miners who couldn't come up for lunch. They needed something that they could still enjoy that was hearty and filling! So the pasty was made and the "handle" (the thick crust around the edge) was used for them to hold. This way, they could still eat without getting the main part of the pasty dirty with their hands.
The cornish pasty is made with a pie crust that is then filled with the most amazing steak, potatoes, and vegetables. They've all been seasoned and cooked to perfection. The outside is flaky and it perfectly holds everything inside. It's a super simple recipe that anyone can make! In fact, have your kids help you… They will love filling up the pie crust and pinching all of the edges closed!
Ingredients:
1 Pie crust (your favorite homemade pie crust or premade) chilled
1/2 pound beef skirt, flank or sirloin steak
3/4 cup Yukon gold potatoes (about 1 medium potato) peeled and cubed
1/4 cup carrots peeled and cubed
1/4 teaspoon salt
¼ teaspoon pepper
¼ teaspoon dried thyme
1/4 cup yellow onion diced
4 Tablespoon butter divided
1 large egg