Family Meat Pie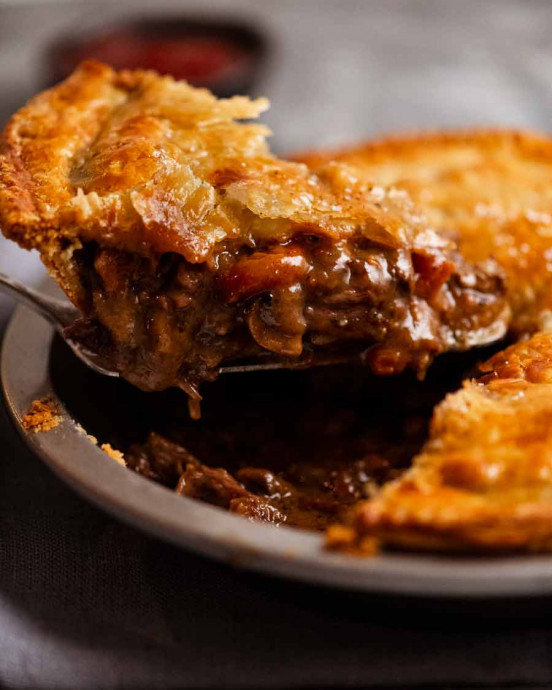 Amazing family meat pie is here! Shortcrust base – Buttery and flaky, this pastry type has enough structure to contain the considerable volume of rich filling! It is blind baked (ie partially cooked before filling) so it doesn't go soggy once baked with the filling. Use store-bought shortcrust pastry for convenience (freezer section), but for a truly great Meat Pie, use homemade shortcrust pastry!
Meat Pie Filling – Your basic meat pie might only be made with beef. But the addition of mushroom, bacon, celery and carrots only makes it better! Bacon for flavour, mushroom for just general extra-delicious factor. Celery and carrots add flavour into the sauce as well as breaking up the filling texture a bit so it's not just 100% full-on meat.
The secret ingredient in this meat pie sauce is Guinness (or other dark beer or red wine) which makes it dark and rich as well as adding a stack of flavour. It puts your basic store bought pies to shame!
Puff pastry top – The traditional topping for Meat Pies is puff pastry. You simply can't top golden, flaky and buttery puff pastry as the lid for a meat pie!
Ingredients:
800g/ 1.6lb chuck beef , 3.5cm/1.4″ cubes
3/4 tsp salt
1/2 tsp pepper
2 tbsp olive oil , plus more as needed (or vegetable or canola)
FILLING:
30g / 2tbsp unsalted butter
200g / 7 oz mushrooms , smallish, halved (larger ones quartered)
125g / 4 oz streaky bacon , cut into 1 x 1.5cm / 0.4 / 0.6″ cubes
1 onion , cut into 2cm / 0.8" cubes
2 garlic cloves , minced
1 celery , cut into 1cm/0.4″ slices (split wide end of celery lengthwise, don't want giant celery chunks)
1 carrot , halved, 1cm/0.4″ slices (quarter very thick end if needed)
330ml / 11 oz Guinness
2 cups beef stock , homemade or store bought low sodium
1 cup water
1/4 tsp salt
3/4 tsp coarsely crushed black pepper , plus more as desired
BEURRE MANIÉ
4 tbsp flour
60g / 4 tbsp unsalted butter , softened
PASTRY:
1 quantity shortcrust pastry , homemade or store bought
1 sheet puff pastry , for lid
1 egg , lightly whisked
SERVING:
Ketchup or Aussie Tomato Sauce , for serving