Chocolate-Dipped Peppermint Meringue Cookies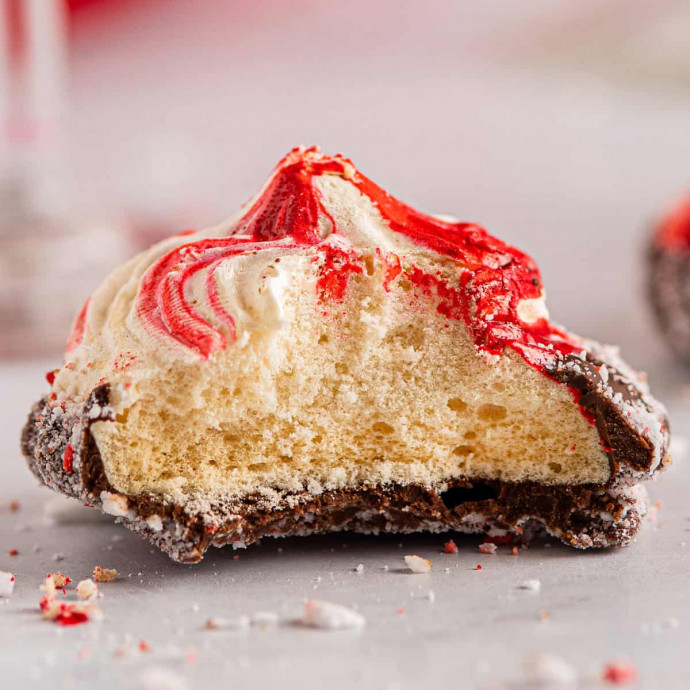 Crunchy and light meringue cookies are flavored with a hint of sweet peppermint, and swirled with red coloring. They are dipped in smooth chocolate and then sprinkled with peppermint pieces for flavor and crunch.
Meringue cookies are such a fun treat. They're so crisp and light, sweet and delicate, and just plain pretty. However, they also have a reputation for being difficult to make.
Well, I won't say this is a beginner-friendly recipe, but it's not a super advanced one either. Meringues take time and patience to make, and there are a lot of things that can cause them to not turn out well.
But don't worry, I've detailed all those things below in this post, as well as a helpful "pro tips for making meringues" section. We'll walk through it step by step, together.
These cookies may take you a try or two to perfect, but once you have it down, you'll be making meringues like a true pastry chef. I find these cookies taste best when made fresh, but I understand the holiday season is extremely busy. So if you need to make these ahead of time, you can.
However, note that over time they may become sticky and chewy, rather than crisp and light.
Ingredients:
5 large egg whites room temperature
1/8 tsp salt
1/2 tsp cream of tartar
1 cup granulated sugar
1/4 tsp vanilla extract
1/4 tsp peppermint extract
red gel food coloring
1 cup dark chocolate chips melted
1 cup crushed peppermint