Southern-Style Buttermilk Biscuits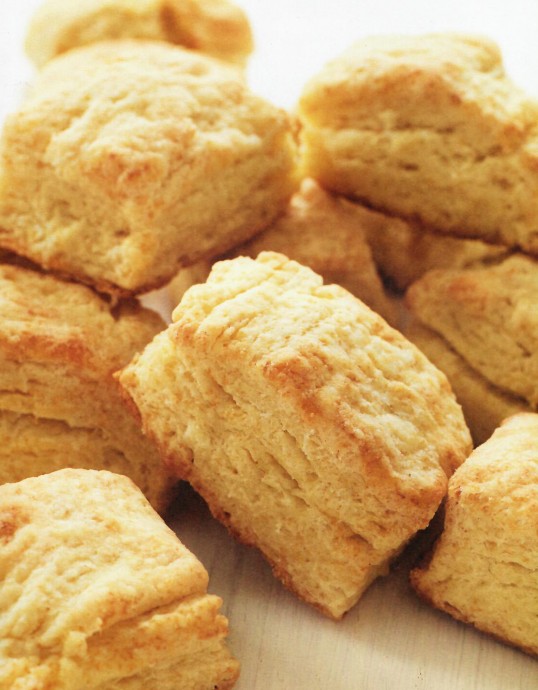 These Southern-style buttermilk biscuits are deliciously rich, buttery, and flaky. Southern buttermilk biscuit recipes typically call for White Lily flour, a low-protein brand primarily available in the southern U.S. states that makes for ultra-tender, melt-in-your-mouth biscuits. I can't find White Lily flour easily where I live, so I use a blend of all-purpose flour and cornstarch to get a similar effect. These buttermilk biscuits are rich, buttery, and flaky with a toasty golden crust. Plus, they're easy to make. You can throw the dough together in 15 minutes and end enjoy the biscuits with your dinner less than fifteen minutes later.
Southern Buttermilk Biscuits are served warm out of the oven with a rich sausage gravy or topped with eggs, bacon, country ham or jam are a staple in the South. The smell of them baking is only eclipsed by the first heavenly bite. If you gathered any number of Southern cooks together, none of them would make their biscuits exactly the same way. Each cook would have their own favorite techniques and tricks to give their biscuits the edge that sets them apart. Serve these fluffy biscuits at any meal and enjoy a taste of the South at your own kitchen table.
Ingredients:
2 cups all-purpose flour, spooned into measuring cup and leveled-off
3 tablespoons cornstarch
1 tablespoon baking powder
1/4 teaspoon baking soda
1 tablespoon sugar
1-1/4 teaspoons salt
10 tablespoons cold unsalted butter, cut into 1/2-inch chunks
3/4 cup buttermilk, plus a bit more if necessary