Chicken Stir Fry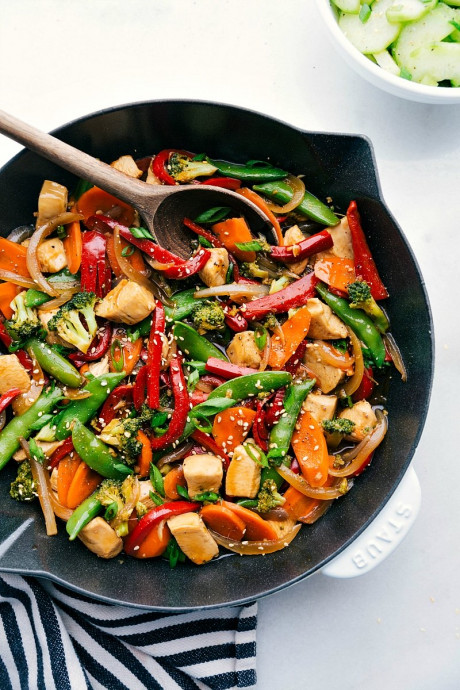 Skip the take out– this Chicken Stir Fry is the real deal. It's packed with fresh sautéed veggies, flavorful chicken, and an addictive savory sauce all ready in 30 minutes or less!
When you're looking for a quick weeknight dinner or a meal to clear out those leftover veggies hanging out in your fridge, a chicken stir fry always comes through. But not just any chicken stir fry — this recipe is loaded with flavors and a delicious sauce that coats it all. You can prep the veggies, chicken and sauce ahead of time to have a dinner that will take less than 10 minutes to cook through after a busy day of work. This meal also makes a great meal prep recipe as leftovers store well for 3 to 4 days. The great thing about Chicken Stir Fry, is that it's pretty all inclusive — you've got protein, vegetables, and a sauce all in one dish. I recommend serving Chicken Stir Fry over rice (brown or white) or quinoa (how to cook quinoa here).
Whenever we make Chicken Stir Fry, we like pairing it with a simple cucumber salad that I'm sharing below (it's a delicious pairing!) You can also pair this stir fry with a fruit salad, spring rolls, egg rolls, or dumplings.
Ingredients:
SAUCE
2 teaspoons corn starch
1 and 1/2 tablespoons lite soy sauce
1 tablespoon oyster sauce
3/4 cup chicken stock (chicken broth works)
1 tablespoon brown sugar lightly measured, do not pack!
1/2 teaspoon toasted (or plain) sesame oil
Freshly cracked pepper
STIR FRY
1 and 1/2 tablespoons vegetable oil
2 garlic cloves finely chopped
1/2 tablespoon fresh ginger finely chopped
1 cup yellow onion thinly sliced (~1/2 medium onion)
1/2 pound (8 ounces) boneless skinless chicken breast cut into 3/4-inch chunks
3/4 cup carrot very thinly sliced on the diagonal (~1 large carrot)
1 cup sugar snap peas
1 cup broccoli florets
1 cup red pepper cut into strips (~1 medium pepper)
Optional: crushed red pepper flakes, green onion, toasted sesame seeds
Optional: serve over white or brown rice