Potato Pancakes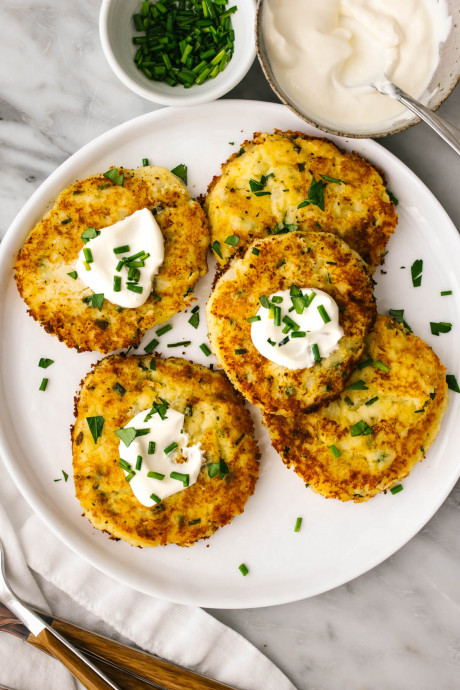 These potato pancakes are the best way to reinvent leftover mashed potatoes. Just mix the mashed potatoes with an egg, some cheese, and minced garlic, onion, and herbs. Then pan fry them into the most deliciously crispy patties.
Sure, you can eat Thanksgiving leftovers as is. But if there's a chance to transform them into brand new meals – I'm all for it. Enter these potato pancakes! They turn leftover mashed potatoes into the most savory, crispy patties dotted with garlicky onion bits, cheesy goodness, and fresh herbs. Let's just say, they really up the ante of what mashed potatoes can do.
But you also don't have to wait for leftovers! If you're craving these pancakes on a regular day, just quickly mash up some russet potatoes the night before. Then fry them up the next day for an easy side dish or breakfast idea everyone will love – especially the kiddos!
Ingredients:
2 cups cold mashed potatoes
1 large egg
½ cup freshly grated parmesan cheese
¼ cup almond flour
1 garlic clove, minced
½ medium onion, finely diced
2 tablespoons fresh chopped chives, plus extra for garnish
½ teaspoon kosher salt
¼ teaspoon freshly ground black pepper
2 tablespoons extra-virgin olive oil
Optional: sour cream and extra herbs for garnish