Strawberry Pretzel Salad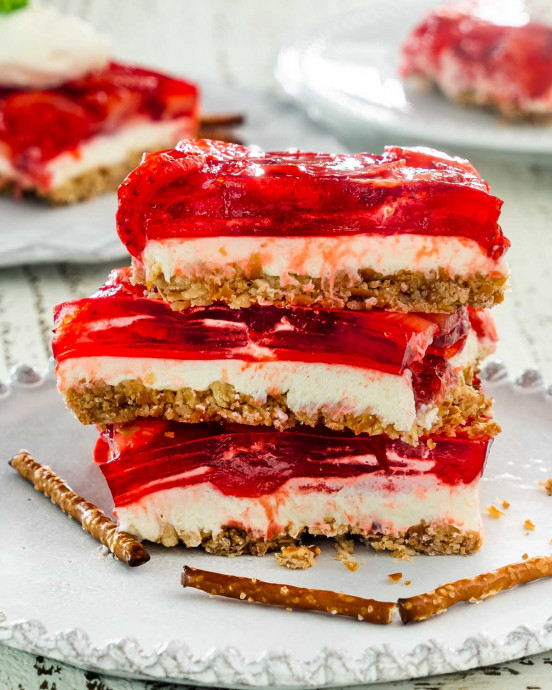 This delightful Strawberry Pretzel Salad is more of a desert than a salad because it tastes that good! It's a little bit sweet and a little bit salty, but oh, so incredibly delicious, with a pretzel base, a smooth and creamy center, and is finished with a fabulous strawberry jello topping.
I realize this is called a salad, but it really is a dessert. As far as why it's called a salad, some say that this is a Southern dish that used to be served as a side or even a main dish. Who knows, and I don't really care, but regardless of what it's called, this is one yummy dish.
This strawberry pretzel salad includes a base of pretzels, a smooth and sweet cream cheese layer, and a topping full of strawberry delight. This reminds me of ambrosia salad, which in my opinion is also heavenly and tastes more dessert-like. Ambrosia salad has always been a favorite Holiday dish, and I think this amazing strawberry pretzel salad can be added to the festive table.
Ingredients:
Pretzel Crust
2 cups pretzels crushed
¾ cup butter salted, melted
3 tablespoons sugar
Cream Cheese Filling
8 ounces cream cheese at room temperature
½ cup sugar
8 ounces cool whip thawed
Strawberry Topping
6 ounces strawberry Jell-O
2 cups boiling water
4 cups strawberries sliced (1 pound)