Buttery Pepperoni Bread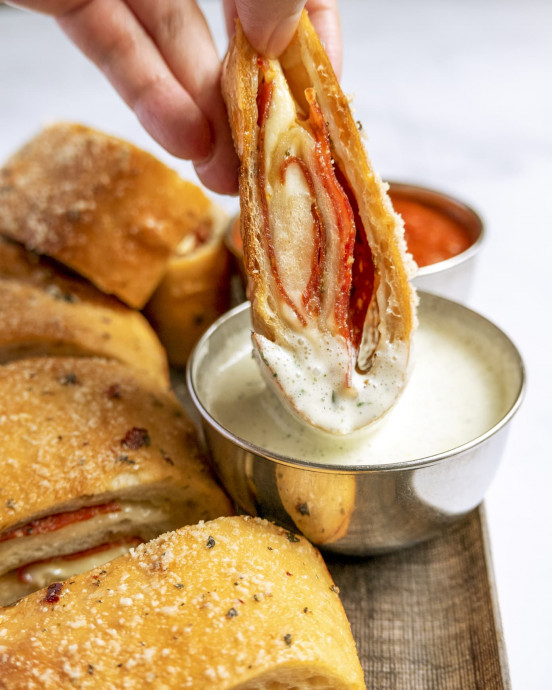 The original pepperoni bread was a simple soft roll with a stick of pepperoni baked inside. The quick and portable lunch was invented as a coal miner's lunch in West Virginia and has recently been declared the state's official food. Its ease and popularity has since spread across the country and variations of pepperoni bread now adorn many party platters.
This recipe makes it easy with store-bought pizza dough, which we roll up with pepperoni and cheese, like a stromboli, and serve with various dipping sauces.Treat pepperoni bread leftovers like pizza. Stuffed with meat and cheese, it needs to be refrigerated. Wrap the bread tightly in plastic wrap or foil.You can freeze a whole loaf of baked pepperoni bread by wrapping the completely cooled loaf in foil and freezing it for up to two months. Thaw the bread overnight in the refrigerator or for three hours at room temperature before reheating in the oven.
Ingredients:
1 pound store-bought or homemade pizza dough
3 tablespoons unsalted butter
Cooking spray
1 teaspoons Italian seasoning
1 teaspoon garlic powder
1/2 teaspoon red pepper flakes (optional)
5 ounces pepperoni (about 20 large slices)
8 ounces low-moisture mozzarella cheese, shredded (about 2 cups)
1 large egg
1 tablespoon water
1 tablespoon grated Parmesan cheese
Pizza sauce or ranch dressing, for serving