Classic Hot Chicken Salad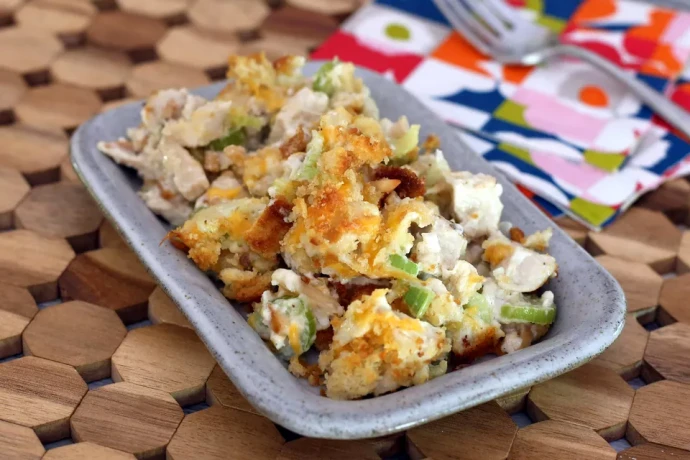 This hot chicken salad is a baked casserole made with chicken salad ingredients and a cheese-and-breadcrumb topping. Toasted almonds and toasted bread crumbs give the salad extra texture and flavor.
Serve this easy hot chicken salad with sliced fresh tomatoes or broccoli salad for a tasty everyday meal. It's a great choice for lunch or dinner menus.
Use a purchased rotisserie chicken or leftover cooked chicken in this recipe.
Ingredients:
3 cups chicken (cooked and cubed)
2 cups celery (thinly sliced)
1 cup mayonnaise
1/2 cup toasted slivered almonds
2 tablespoons lemon juice (freshly squeezed)
2 tablespoons onion (finely chopped)
1/2 teaspoon salt (or to taste)
1/2 cup shredded cheddar cheese or a cheddar-jack combination
1 1/2 cups toasted breadcrumbs (divided)
2 tablespoons butter (melted)
Garnish: chopped green onion or parsley