Slow Cooker Beef Barley Soup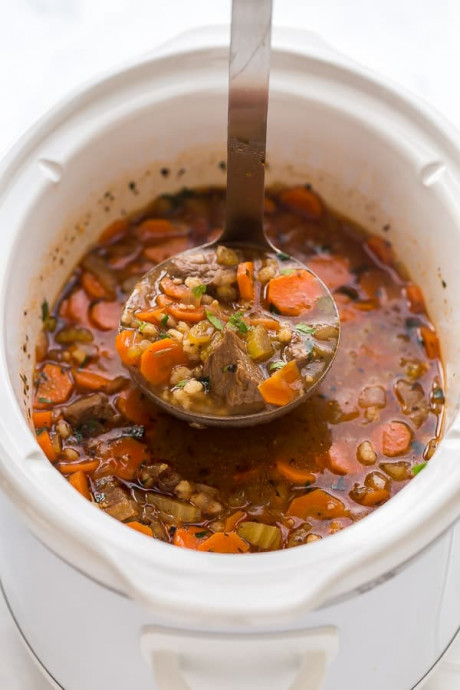 This Slow Cooker Beef Barley Soup is an easy crockpot meal perfect for fall or winter! Loaded with vegetables and tender chunks of beef.
There is just nothing better for cold weather comfort food than this Slow Cooker Beef Barley Soup. Why you will love this Beef and Barley Soup:
It is cozy, hearty and loaded with flavor — plus the slow cooker means that it basically cooks itself! This classic Beef and Barley Soup is another favorite, but sometimes you just don't want to stand over the stove (or you can't!). The crockpot is a great option for those busy days.
it's thick and chunky — I don't want to be hungry in an hour!
It's loaded with vegetables, which is one of my favorite ways to get them in
it slow cooks most of the day, which means your house will smell amazing and you don't have to worry about dinner at 5:00!
it's big on flavor — browning the meat adds a ton of flavor, so don't skip that step if you've got a few minutes!
it's healthy! Full of protein, whole grains, fibre, vegetables all in a neat little delicious package.
Ingredients:
1 tablespoon oil
1 lb beef stewing meat
1 small onion finely diced
2 teaspoons minced garlic
1 teaspoon salt
1 teaspoon Italian seasoning
1/4 teaspoon black pepper
3 large carrots peeled and chopped
2 ribs celery chopped
1/2 cup pearl or pot barley rinsed
2 tablespoons tomato paste
2 bay leaves
4 cups low sodium beef broth
fresh parsley for serving