Healthy Dark Chocolate Coconut Bites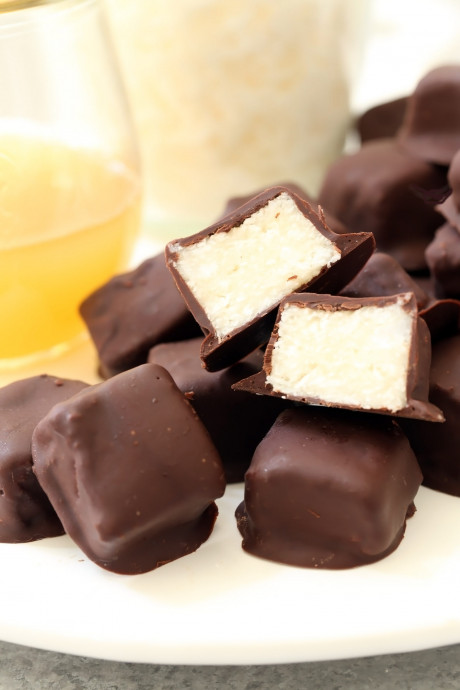 These Healthy Dark Chocolate Coconut Bites are little squares of pure chocolate and coconut bliss. They're made with unsweetened coconut flakes, brown rice syrup and a wee bit of vanilla. These chocolate coconut bars are made with shredded coconut, brown rice syrup and pure vanilla extract. They come together easily and they offer a healthy dose of good fats (coconut oil), antioxidants (dark chocolate) and iron and fiber (coconut).
These coconut chocolate bars are amazing simple. They're light and chewy and have a rich coconut flavor. I originally fell in love with chocolate coconut bites when I discovered them at my local health food store (Mother's Market). I'm typically not a sweets person, but these little bites are just the right size and have just the right amount of sweetness. They're made with brown rice syrup, but you can use pure maple syrup or honey if you prefer. Brown rice syrup is a light syrup that doesn't have a demanding flavor, so the coconut flavor gets to really shine through. If you use honey of maple syrup, the coconut flavor will have some competition. But they'll taste amazing either way!
Ingredients:
3 cups unsweetened finely shredded coconut
1/3 cup brown rice syrup (you can use honey or maple syrup as well)
1 teaspoon pure vanilla extract
pinch of sea salt
1 cup dark chocolate chips (or 1 cup chopped dark chocolate from a bar like Scharffen Berger)
1 tablespoon coconut oil