Gata (Armenian Coffee Cake)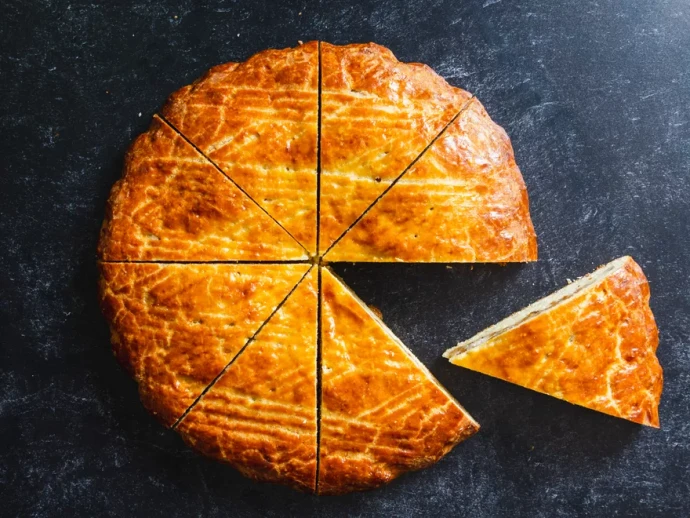 A yeasted dough loaded with butter, sugar, Greek yogurt, and egg creates a tender, light bread-cake hybrid. The filling, known as khoritz in Armenian, is a mixture of chopped walnuts, flour, butter, sugar, and vanilla that's similar to a streusel.
The gata is filled with just a single layer, making it easy to assemble and shape. My favorite thing about this gata—aside from its good looks and deliciousness—may be the way it's shaped, which is both straightforward and forgiving: Once you've pressed and rolled the dough out into a 12-inch-wide round, you place the filling in the center of it, fold and pleat the dough over the filling until it's fully enclosed, and then you press and roll it into a disc again. It's pretty easy to do, but the good news is—unlike other, similar preparations, like dumplings, which I've found are a challenge to shape prettily without lots of practice—the gata is very forgiving. Delicious coffee cake for a winter day.
Ingredients:
For the Dough:
10 ounces (2 cups plus 2 tablespoons; 285g) all-purpose flour
1 1/4 teaspoons (5g) instant yeast
1/8 teaspoon baking soda
2 teaspoons (6g) Diamond Crystal kosher salt; for table salt use half as much by volume or same weight
5 ounces (10 tablespoons; 140g) unsalted butter, softened
2 ounces (about 1/4 cup; 60g) sugar
5 ounces (about 2/3 cup; 140g) plain Greek yogurt (whole or low-fat)
1 large egg (55g), lightly beaten
For the Filling:
3 ounces (85g) walnuts, lightly toasted and coarsely chopped
2 1/2 ounces (about 1/2 cup; 70g) all-purpose flour
2 ounces (about 1/4 cup; 60g) sugar
1/4 teaspoon Diamond Crystal kosher salt; for table salt use half as much by volume or same weight
2 ounces (4 tablespoons; 60g) unsalted butter, melted
2 teaspoons (10ml) vanilla extract
To Finish and Bake:
1 large egg, lightly beaten with a pinch of salt