German Christmas Stollen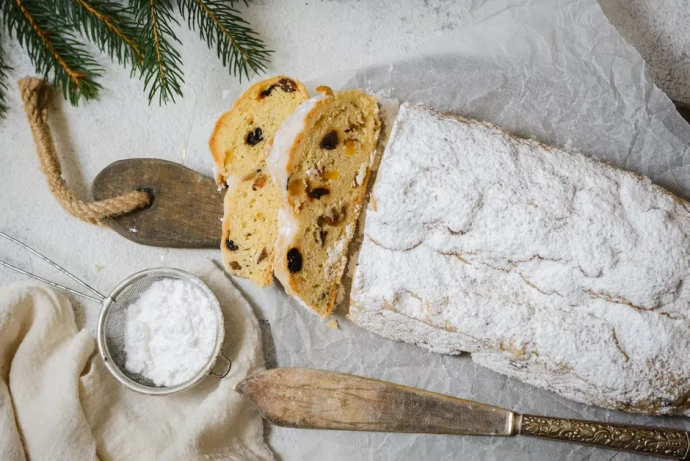 One of Dresden's favorite holiday sweet breads is Christmas stollen. There's no need to take a trip to Germany because you can bake your own at home with little trouble in a few hours. Christmas stollen, or Christstollen, is full of nuts, raisins, and candied fruit, and creates a delicious holiday treat.
Like other Christmas fruit bread recipes, stollen is best when made weeks in advance. Storing the baked loaf for two to three weeks mellows and softens the flavor perfectly. Mark your calendar each year so you don't miss out on an opportunity to share this holiday tradition with your family.
Ingredients:
1 cup (145 grams) dark and golden raisins
1/4 cup (40 grams) candied lemon peel
1/8 cup (20 grams) candied orange peel
1/3 cup (50 grams) blanched almonds, chopped
2 tablespoons (50 milliliters) dark rum
1 (1/4-ounce) envelope yeast, 2 1/4 teaspoons, or 30-gram cake of yeast
1 1/4 cups (295 milliliters) warm milk, divided
1/3 cup (50 grams) granulated sugar, plus a pinch
4 2/3 cups (595 grams) bread or all-purpose flour, divided
1 large egg
2 tablespoons lemon zest, from about 2 lemons
1/2 vanilla bean, split and scraped, or 1 teaspoon vanilla paste or extract
1/4 teaspoon salt
7 1/2 ounces (213 grams/15 tablespoons) softened unsalted butter, divided
1/4 teaspoon ground nutmeg
1/4 teaspoon cardamom
1/2 cup melted unsalted butter, for brushing
1/2 cup confectioners' sugar, for dusting