Butternut Squash And Eggplant Stir Fry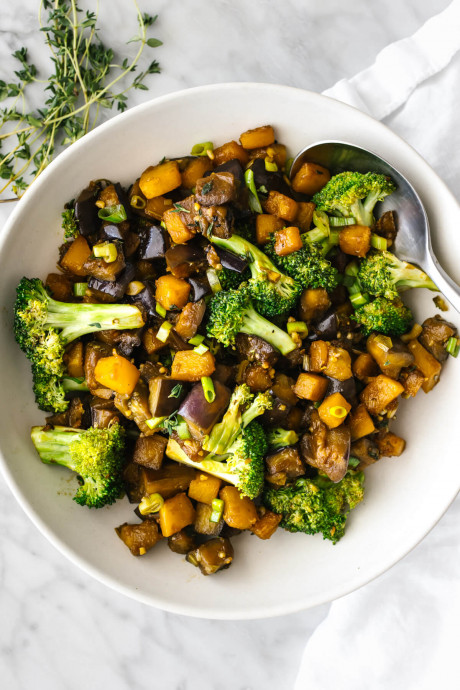 Butternut squash, eggplant, and broccoli are quickly sauteed in a veggie-forward stir-fry, then doused in a sweet-and-savory balsamic soy sauce. It's one sensational vegetarian side dish.
I'll admit, this was a bit of a throw-together idea with fridge leftovers. But somehow these ideas always surprise me and turn into the best meals, like my Mediterranean ground beef stir fry. Who knew butternut squash, eggplant, and broccoli could make for one heck of a vegetable stir fry!
The veggies are perfectly cooked in a giant wok, then coated in a sticky sweet sauce that honestly tastes like restaurant quality (but even better). It's lighting fast, makes for one tasty side dish, and bonus – can be turned into a full meal with a few simple additions.A good stir-fry sauce is a solid balance of tangy, sweet, and savory. Here's my version that perfectly compliments this group of vegetables.
Ingredients:
3 tablespoons extra-virgin olive oil
2 cups diced butternut squash
½ teaspoon kosher salt
¼ teaspoon freshly ground black pepper
1 eggplant, diced
2 cups broccoli florets
3 green onion, sliced, with white and green parts separated
3 garlic cloves
2 teaspoons fresh thyme leaves, roughly chopped
SOY BALSAMIC SAUCE
2 tablespoons tamari soy sauce or coconut aminos
1 tablespoon balsamic vinegar
1 tablespoon honey
1 teaspoon sesame oil