Maple Sweet Potato Pie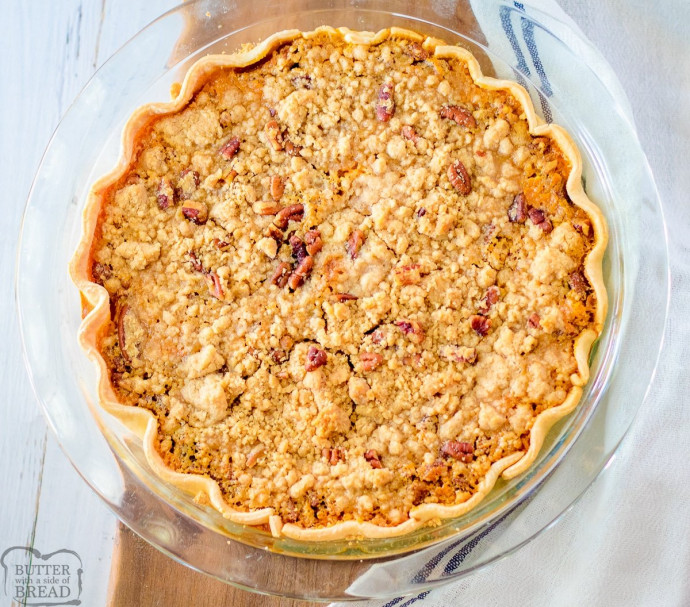 Maple sweet potato pie made with a homemade flaky crust, pecans, sweet potatoes & brown sugar cinnamon streusel topping! Fantastic flavor in this classic sweet potato pie recipe that everyone loves!
Homemade sweet potato pies are a big thing around the holidays depending on where you are. I know they're often seen on Thanksgiving tables, but they can truly fit any occasion because there's never a wrong time to serve pie.
While there's a lot of wonderful and complex flavors in this pie the recipe and the ingredients list are fairly simple. We make an old-fashioned apple cider crust to keep our pie crust flaky and flavorful. The filling is a combination of cinnamon, maple syrup, pecans, and a basic sweet potato pie filling which all work so well together you'll wonder why you hadn't tried this combination before.
Ingredients:
Pie Crust
2 ½ cups all-purpose flour
1 cup butter cubed and chilled
7 TBSP ice cold water
1 tablespoon apple cider vinegar
Pie filling
1 cup sugar divided
1 cup chopped pecans
1 teaspoon ground cinnamon
4 eggs
1 cup mashed sweet potatoes
¾ cup buttermilk
¼ cup butter melted
¼ cup maple syrup
Streusel Topping
½ cup flour
¼ cup packed brown sugar
¼ teaspoon ground cinnamon
½ cup chopped pecans
½ cup butter softened