Elf Bait Christmas Snack Mix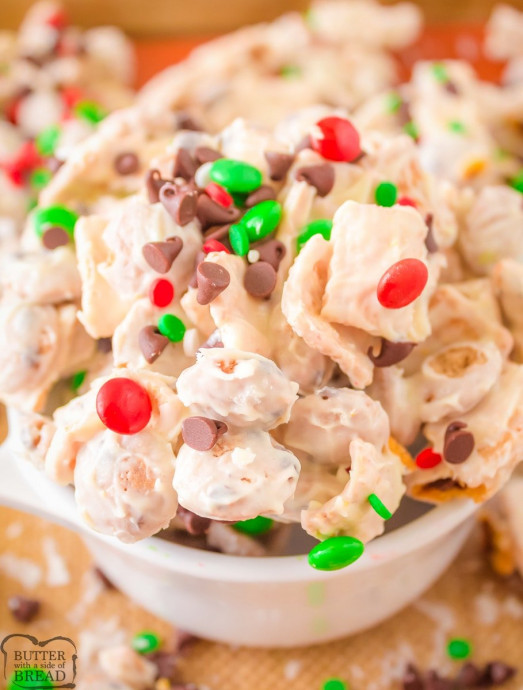 Elf Bait Christmas Snack Mix made with 3 cereals coated in white chocolate & tossed with M&M's and sprinkles! Simple, fun sweet snack mix perfect for parties & holiday gifts!
You're going to love making this elf bait recipe just as much as you do eating it. It's such a wonderful blend of sweet and crunchy. Every batch is filled with festive colors of red, white, and green, making it perfect for the holidays. This no-bake Christmas treat will be the highlight of any party or get-together and won't last long either so make sure you set your portion aside before offering this Christmas snack up to others.
Elf bait, also sometimes known as elf crack or elf munch is similar to a Chex mix cereal snack mix in that it has chocolate and cereal at its base. But what makes it unique is the blend of cereals and colors in every batch. We use 3 different kinds of cereal for a fun and flavorful blend of crunch and top it off with white chocolate, mini chocolate chips, and festive colored M&Ms and sprinkles. You may not catch a little elf, but you will catch a good time with this fun Christmas mix.
Ingredients:
2 cups Kellogg's Chocolate chip cookie dough cereal
2 cups General Mill's Chocolate Cookie Crisp cereal
2 cups General Mill's Sugar Cookie Toast Crunch cereal
2 ½ cups chopped melted Log house Baking White Chocolate Bar
¼ cup mini chocolate M&M's Christmas colors
⅛ cup Christmas sprinkles
¼ cup mini chocolate chips