Sugar Cookie Bars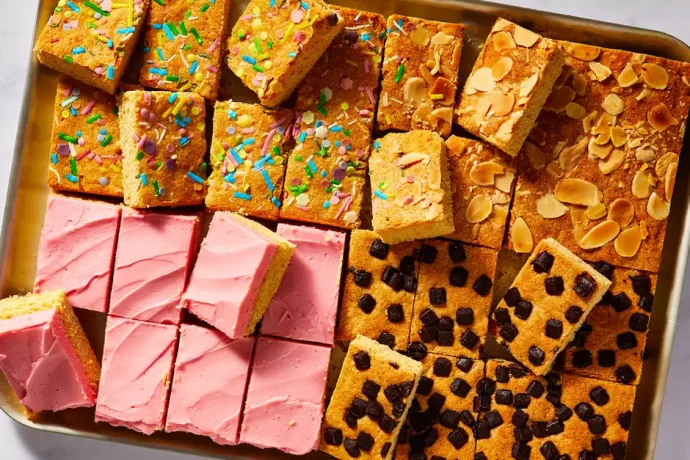 This is the cookie that's here for you whenever you need it, no chilling time, rolling, shaping, or special equipment required. It's your go-to recipe for every occasion or craving. These sugar cookie bars are a cross between your basic, cut sugar cookie with crispy edges, and a softer lofthouse cookie, which has a cakier interior.
Knowing how your ingredients react in a recipe is what enables you to create a cookie just for you. The secret to these cookies is the small addition of bread flour and brown sugar. Swapping in bread flour for all-purpose does not impact the structural integrity of the cookies, but it does create a chewier bite. Similarly, brown sugar adds chewiness, and the molasses in the brown sugar creates deeper caramel notes. Almond extract adds a layer of seductive complexity to the vanilla while evoking an aroma reminiscent of your favorite local bakery.
Make these cookie bars as a quick pantry treat or serve the sheet pan whole for a special cookie cake. Even better, if you have picky eaters on your hands—some want chocolate chips, some sprinkles, some nuts—you can top sections of the sheet pan differently based on what each person craves.
Ingredients:
2 1/4 cups all-purpose flour
2 cups bread flour
1 teaspoon baking powder
3/4 teaspoon kosher salt
1 1/2 cups (3 sticks) unsalted butter, room temperature
1 1/4 cups granulated sugar
1 cup light brown sugar
2 teaspoons almond extract
1 teaspoon vanilla extract
3 large eggs
Chocolate chips, sprinkles, nuts, or other toppings, optional
Buttercream frosting, optional