Strawberry Sweet Rolls with Lemon Glaze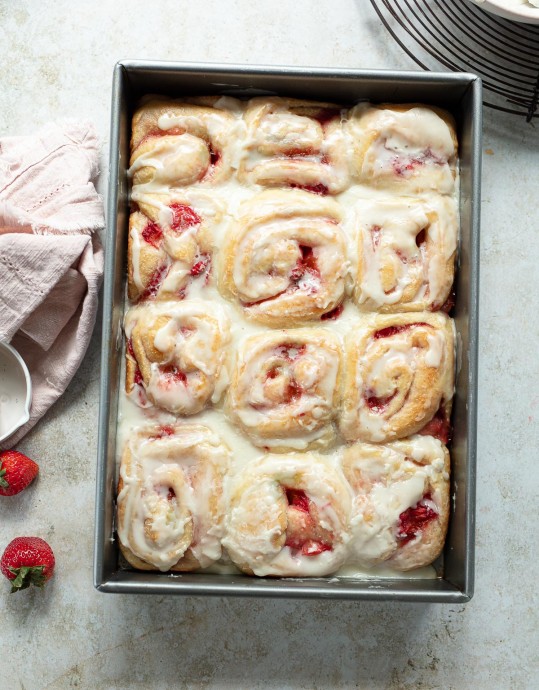 Homemade sweet roll recipe that makes gooey strawberry-swirled soft rolls with a creamy lemon glaze — perfect for relaxed mornings. They weren't made from scratch, but I loved them just the same. I especially enjoyed the job of opening the packet of white, sugary glaze and spreading it over the hot rolls. If there was ever a food that brought more joy to me as a child, I can't think of one!
I've made many pans of cinnamon buns over the years for my own family, and this yeasted, tender dough recipe is our favorite. This time I decided to make them with a lightly sweetened strawberry filling instead of the usual brown sugar and cinnamon.
This dough has all that going on, plus it's so easy and hands-off to make in a stand mixer. If you don't have a mixer — or if you just love to get your hands on dough — you can also mix the dough by hand in a large mixing bowl. A creamy glaze is the "wow" factor that makes a pan of sweet rolls so fantastic — the combo of yeasty, buttery dough, tangy-sweet strawberry filling and finally the creamy glaze with its light lemony taste is the definition of irresistible!
Leftover rolls will keep up to 2 days at room temperature. The glaze will melt and become sticky, which is fine.
Ingredients:
1/4 cup (115 g) unsalted butter, softened
2 tablespoons granulated sugar
1 egg, room temperature
3 cups (400 g) unbleached all-purpose flour
2 1/2 teaspoons instant yeast
1 teaspoon kosher salt
1 cup (240 ml) milk (almond or oat milk is fine)
1 tablespoon melted butter, for brushing the pan
1 1/2 cups fresh strawberries, hulled and sliced into 1/2-inch pieces
3 tablespoons granulated sugar
2 tablespoons water
1 tablespoon cornstarch
1 3/4 cup (227 g) powdered sugar
3 tablespoons fresh lemon juice
1 tablespoon melted butter
1/4 teaspoon flaky sea salt