Cilantro Lime Bacon Coleslaw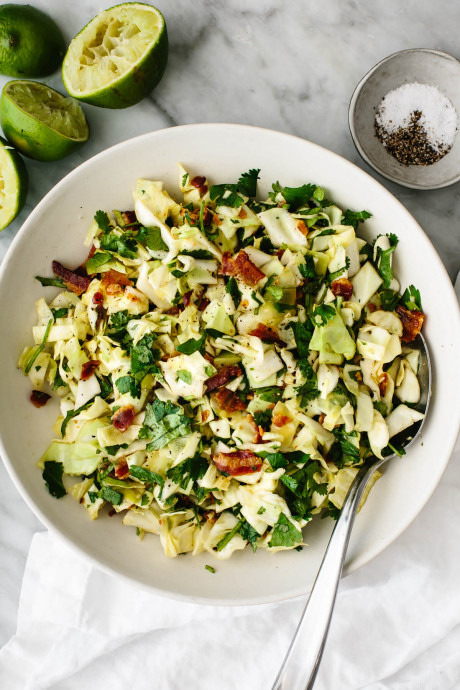 Cilantro lime bacon coleslaw is the ultimate addition to your next taco night or summer barbecue. Shredded cabbage is tossed with zesty cilantro lime goodness and crispy bacon bits for a mouthwatering and highly addictive slaw.
Bowls of guacamole and pico de gallo are taco night essentials. But when it comes to fish tacos (especially my shrimp tacos), this cilantro lime bacon coleslaw is a no brainer topping. It's bright, refreshing, and the crispy bacon bits work amazingly in this slaw.
Coleslaw is one of my favorite summer recipes because you can serve it up as a side dish, a salad, or a topping on tacos, burgers, and more. It's incredibly versatile, like a blank canvas for flavors, and you've seen me make a creamy coleslaw (the classic recipe) and a vinegar coleslaw (with no mayo). But you know I'm a sucker for anything "cilantro lime!"
Ingredients:
8 ounce bacon
1/4 head of green cabbage, finely shredded
2 cups (not packed) cilantro leaves, roughly chopped
2 tablespoons olive oil
3 tablespoons lime juice
1/2 teaspoon salt
1/2 teaspoon black pepper