Firecracker Shrimp Skewers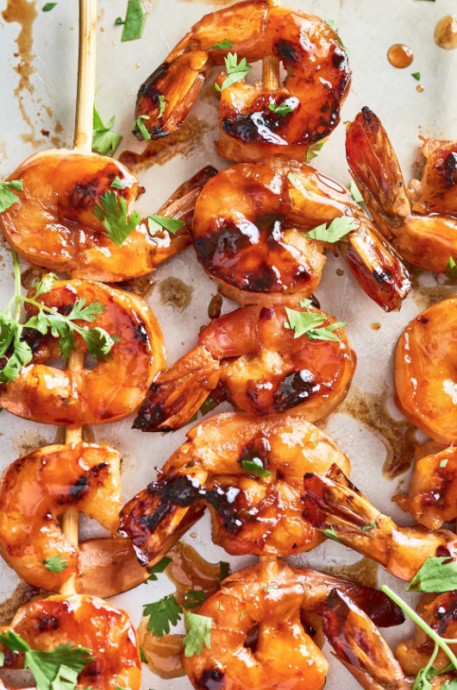 For a light dinner look no further than firecracker shrimp skewers. These shrimp are grilled and glazed with a spicy-sweet marinade that will have you licking your fingers and reaching for (at least) one more.
The base of this spicy marinade is — you guessed it — hot sauce. I use Frank's RedHot for its classic cayenne flavor and fiery red hue, but feel free to use your favorite. Brown sugar and apple cider vinegar balance the marinade with a touch of sweetness.
Thaw the frozen shrimp completely and pat them dry before adding to the marinade (any ice on the shrimp will thin it out). After a dunk in the shrimp marinade, bend them until they resemble the letter "C," then thread the skewer through. This prevents them from spinning around on the skewers when you flip them on the grill.
After the shrimp are threaded, pour the remaining marinade into a saucepan and heat it on the grill to thicken it up. Just a few brushes of the sauce and the shrimp will be glossy, sticky, and spicy. Serve straight from the skewer, scatter over rice, or tuck in a taco. What you'll really need is a cool drink or some crunchy slaw to tame the heat.
Ingredients:
2 cloves garlic, grated
3/4 cup packed light brown sugar
1/4 cup hot sauce, such as Frank's RedHot
1 tablespoon apple cider vinegar
1/2 teaspoon kosher salt
1/4 teaspoon red pepper flakes
1 1/2 pounds large peeled and deveined shrimp (20 to 25 per pound), thawed if frozen
8 metal or wooden skewers (about 10 inches)